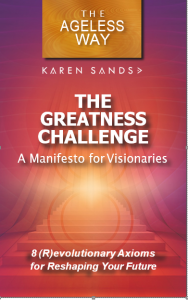 In this manifesto, I beseech you to belly up to the realization that we can no longer afford to rest on our laurels. The world is shifting to a different playing field, one New York Times columnist Thomas Friedman says is "flattened by instant connectivity." If we don't wake up in time to retool for this new epoch, we may find ourselves sucked into the backdraft of the future.
However, from the vibrating heart of our dissipating structures comes the promise of our true greatness: a greatness of awareness and action that will change the world. From the midst of the evolving Great Transition, we leave the Great Recession and the uplifting Obama era behind us as we enter an unknown, unchartered new cycle of populism and extreme radicalism ripping our valued democratic tenets to shreds and putting each of us on the line.  This Great Shift demands that we each unlock our potential for greatness which lives in each of us, and we are being called to make a difference. That is the premise of The Greatness Challenge, in which I offer a template for embracing and embodying our unique Signature Greatness DNASM to unleash our personal and collective greatness.
The Greatness Challenge is a manifesto for the growing wave of us who want to add value in all we do and who are being called to personal and collective evolution—from dentists to doctors, executives to engineers, artists to teachers and visionary leaders and futurists who are looking to redesign their lives so that every moment counts . . . for those of you who seek work that not only fills your bank accounts but your "values" bank as you yearn to do well doing good . . . for leaders who seek a pathway to visionary leadership, so the impact you have is of the greatest benefit for all.
To be one of the first to hear about The Greatness Challenge when it releases join us in the Secret Facebook Group here.