Like all of existence, this site is ever changing. It is in the process of re-becoming and therefore will continue to evolve till its time to rebirth in the Autumn. So please keep checking in for exciting updates and changes.
In the meantime enjoy your summer. Please remember to add The Future Report as well as my new Ageless posts and Ageless Beat e-letters to your summer reading list.
Here's to your Ageless Future,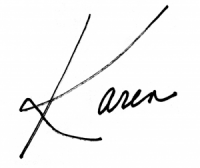 THE FUTURE REPORT
A GLIMPSE OF TOMORROW'S PROMISE
A glimpse of where the world is headed tomorrow can reveal opportunities today to shape uncertainty into a powerful tool for change.
Also send me Karen's eletter, Ageless Beat, packed with tools, tips and opportunities for reinventing my future.
I VALUE YOUR PRIVACY AS I VALUE MY OWN.
Privacy Policy