Rock Your Age Coaching & Mentoring
Leverage the Longevity Economy
If you've been asking yourself, "Is this all there is?"
My answer to you is simple: No, it isn't.
You have tremendous potential to make a positive impact in the world while living a meaningful, productive, and profitable life—whether you're an established or soon-to-be entrepreneur, visionary leader, intrapreneur, or executive-in-transition or seeking an encore.
And, with the right support, coaching and mentorship, you can enjoy the rest of your years as a visionary leader and change maker on the leading edge of your generation. Our generation.
Imagine . . .
having the means to blaze a NEW trail: one that's rooted in your core values?
creating a meaningful legacy that makes a difference for decades to come?
supercharging your business (. . . or soon-to-be business)?
multiplying your profits in ways that also profit the world at large?
Whether you're a world shaker, change maker, or leader-in-the-making, I'll blend my strategic thinking, foresight, and creative insights with your world-changing vision to help you forge an alternative path for your future—one that allows you to experience more freedom and more fulfillment as you learn what it is to truly Rock your Age!
Apply Now for Your Trailblazing Discovery Call!


Karen helped me to see myself as I truly am. A gifted, insightful, intuitive and very wise masterful coach, she has helped me design and install a wisdom chip that helps me be conscious about why I'm making decisions so I can align with what I want vs. going with what others expect. My professional leadership and communication skills have also been greatly enhanced by our work together. Karen doesn't sugar coat the truth and she doesn't let me off the hook, yet she makes me laugh! And she does this all by phone—without the benefit of visual cues! I think of Karen as "wisdom on call."
Jonna Kurucz - Staff Vice President, Health and Wellness, Anthem
Your story isn't over.
In fact, it's only just begun.
Whether you're starting your own business, changing or radically reinventing your career, business or life, or seeking a confidante-on-call, I'll show you how to revitalize and monetize your vision into a sustainable, aspirational, Ageless Future that matters.

When you become a coaching & mentoring client, you'll receive:
a comprehensive roadmap that will get you on the path to sustainable success.
tons of clarity, so that you know exactly what you need to do next to get where you want to go.
no-holds-barred access to my 40 years worth of experience, high-impact expertise, and most highly recommended resources.
a master level of accountability that will keep you productive and in the game.
me, as a sounding board, so that you can hash out any doubts that come up along the way and get out of your own head.
momentum beyond your wildest dreams.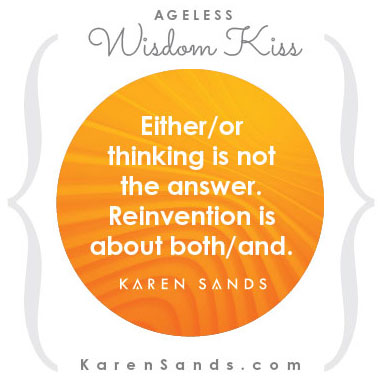 Karen "centered" me and showed me that it was possible to create and live my dreams. She consistently, persistently challenged me to pursue what we discerned that I wanted. A wise, vibrant no-nonsense woman, Karen is a dynamic, down-to-earth and spiritual teacher/coach. She has the high-powered business background and experience that I wanted to grow and expand myself. I would highly recommend Karen as a coach for anyone who wants to have the life they dream of and to live that life to the fullest!
Paula A. Rogers - Founder and Owner, PAR Group, Retail Consultants