Bylines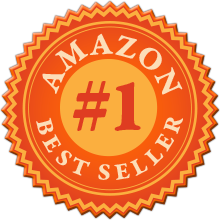 Leading GeroFuturist™, Amazon #1 best-selling author, firecracker speaker, game-changer and thought leader on the Longevity Economy, 40+ market and Ageless Aging. Specializing in the future of women, ageless leadership and the business of aging. Karen is a bold advocate for The New Story of Our AGE, a & "visionary with wrinkles," an expert authority on midlife, and a Master Coach & Mentor who empowers Boomers to rock their age and inspires those who serve them to shape the world and their role in it. www.KarenSands.com
For B2B:
Leading GeroFuturist™, Amazon #1 best-selling author, firecracker speaker, game changer, and thought leader on the Longevity Economy, 40+ market, the business of aging & the aging of business, and Ageless Aging for all ages. A "visionary with wrinkles," Karen is a bold advocate for her evolutionary model of a New Story of Our AGE. As a Consultant, Strategist, Trainer and pioneering Certified Master Coach, she guides and mentors trailblazers, visionary leaders, and their organizations toward the Triple Bottom Line: People, Planet & Profits, supporting them as they find and anchor their niche in the 21st century global business of aging climate, while evolving their role for a New Age.
Karen Online Links
Phone: +1.203.266.1100
Skype: karen.sands8888
Linkedin: https://www.linkedin.com/in/karensands/
Facebook: https://www.facebook.com/TheEverydayFuturist
Twitter: https://twitter.com/karensands
Pinterest: https://www.pinterest.com/karensands/
Karen@KarenSands.com
www.KarenSands.com
The Greatness Challenge Facebook Group
Links to Books
The Ageless Way
Visionaries Have Wrinkles
Gray is the New Green
The Greatness Challenge
Book Descriptions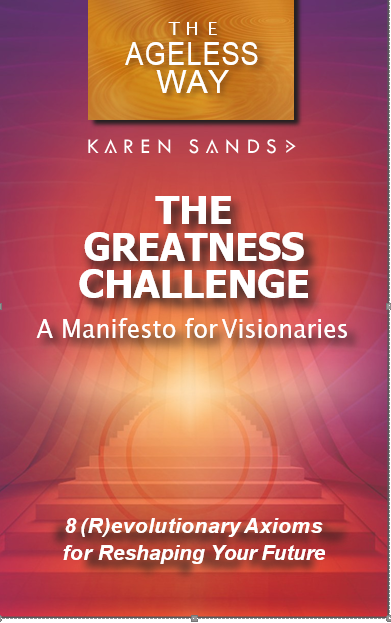 Lead Others In Ways You Never Before Imagined
Historically in moments of political, personal and social unrest, conditions are set for the emergence of greatness in leadership. This greatness is now appearing in all sectors – and particularly in business as we move towards increasing sustainability for people, planet and profits.
Karen takes participants through the fundamentals of creating and living greatness, using 
processes, models and principles featured in her foundational book The Greatness Challenge and developed from her 35 years of coaching leaders, super stars and 'movers and shakers'…especially the Already Arrived.
Join other leaders as we study the 8 (R)evolutionary Processes to meet the greatness challenge. 
Special guests share their tales and triumphs as future forward leaders while case studies offer hope and guidance for building our better tomorrow.
The Greatness Challenge is an inspiring and transformative book for you if you are seeking to bring positive change to your life, your workplace and the world.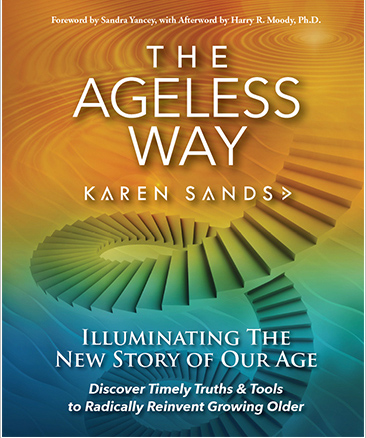 More of us than ever before are ready to reshape the chaos of our lives and planet, to change what aging means while transforming our lives and our world. The old story of aging no longer applies – if it ever did. We have more to give, not less, with each new year.
Why deny age when we can transcend it?
We can live beyond time, beyond age. We can be Ageless. Join leading Educational GeroFuturistTM Karen Sands in an exploration of past, present, and future stories, from the ancient oracles to modern trends in everything from entrepreneurship and the economy, science and technology, health and beauty, community and politics-stories and trends that lead to one extraordinary conclusion:
We are on the cusp of the new story of our age, as individuals and as a planet, a story in which multiple generations have an opportunity to redefine age and reimagine the future together, and in doing so, transform the world in visionary ways. It's time for us to illuminate this new story about what it means to age across our life course, a story in which we step forward to be not who we should be as we age but who we can be.
Let the old story go. Let the new story begin.
Usher in The Ageless Way now – at every age. It's our time to radically reinvent growing older!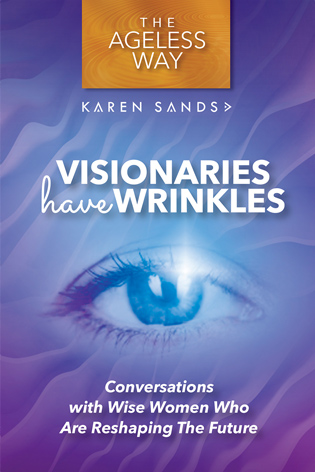 Women visionaries share their no-holds-barred inspirational points of view on growing older boldly, wisely, and visibly to reshape the future for all of us. Join Karen Sands, ICF & CCE Master Certified & Board Certified Coach, Transformational GeroFuturist for insightful, inspirational, truthful conversations with innovators, activists, artists, teachers, healers, and leaders-women who have stepped beyond society-imposed (and self-imposed) limitations on women and expectations about how we should age and who we should be in our fifties, sixties, seventies, eighties, and beyond. These women don't just tell it like it is. They tell it like it can be. For all of us. Women like Elly Guggenheimer, Carole Hyatt, Marion Woodman, Belvie Rooks, Josie Cruz Natori, and many more bring their unique gifts and wisdom to the issue of aging and what that process demands of us. Perhaps because they are keenly aware that their time is limited, they have wasted no time pretending to be less than who they are-extraordinary women living their visions with more passion, wisdom, and focus than ever before, not despite their age but because of it. This is true for us as well: There is so much more for us to live in the time left to us. We don't have to age the way we're "supposed" to-quietly, gracefully, invisibly. Since when has our generation ever done what it's supposed to do? The same women who worked to shatter the glass ceiling are now soaring beyond the silver ceiling, and in doing so, they are leaving a visionary legacy for generations to come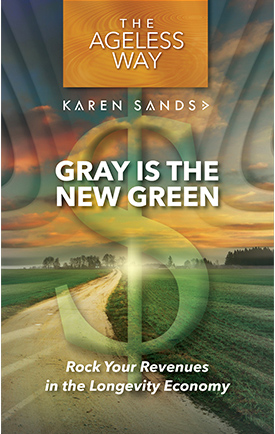 The old story, that youth rules, no longer applies. Our future hinges on recognizing the needs and contributions of the 40-plus market, Most importantly, Ageless Boomer women who mean BIG business!
A paradigm shifting business book for visionary leaders, savvy marketers, and innovative entrepreneurs who are ready to rock their revenues in the Longevity Economy by staying in sync with the people who keep them in business.
Discover how demographic trends coupled with cutting-edge findings will positively influence your future leadership, business development, market reach, and succession planning.
Learn why and how to communicate with the 40-plus market – how to leverage their talents as leaders, employees, and employers, how to develop products that serve their needs and how to market them to generate a positive purchasing response.
If you snooze, you lose! Now is the time to drive your business or firm to join the innovative product developers, attuned marketers, savvy service providers, and future-forward employers who understand what is coming, leaping ahead to snatch up segments of this booming market.
Leading GeroFuturistSM and thought leader on the Longevity Economy, Karen Sands shares her unique perspective to usher in an evolutionary change in the business community by engaging with the workforce and the marketplace to communicate with the 40-plus women's market. That's not all, she also guides the reader in how to leverage their talents as leaders, employees, and employers, how to develop products that serve their needs and how to market them to generate a positive purchasing response.
Click any of the images below for a high resolution version: