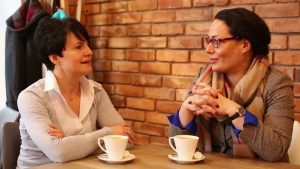 Soon,, many of us will reconnect with loved ones, allowing time to stop for a day while we enjoy each other's company (and cooking!) and reflect on what really matters to us.
As I have discussed in the past many women have applied the spirit of this day, both the gratitude and the giving, to their lives, their work, and their businesses. More and more women are giving money and time to charity, even during a recession. And women-owned businesses stand out statistically for their ongoing contributions to their community.
Stephanie Caughell, owner of the cake bakery Gimme Some Sugar, an upscale cake bakery founded in 2005, regularly donates her cakes and cupcakes to support causes (the Boys and Girls Club, The DHS Heart Gallery, Gleaners, the Spotlight Foundation, and on and on) as well has individuals, such as a little boy undergoing a heart transplant.
Pauline Chan Lewis, founder of Oovoo Designs, refused to pay the going rate for hand-embroidery in Vietnam. She instead sought out a woman's cooperative, paying 15 percent above local rates, plus bonuses and all-expenses paid weekend vacations for the women and their families once a year. On top of that, Pauline gives 5% of her profits to women's charities in Vietnam and Virginia, her home state.
Julia Starrs, owner of a trendy bag and apparel home business, was asked to help raise money for a terminally ill two-year-old girl. This fundraising effort lead her to start Hopeful Stars (Fashion for a Cause), which raises money for grassroots charities across the country through home shows and events. On top of this, Julia donates up to 30% of her profits to charity.
Lauren Bush, fashion model, also used fashion as a way to give back by founding FEED, which uses fashion profits to feed the hungry. Her recyclable bag sales have provided 55 million meals.
Shawna Haddad Byers, owner of the bar and entertainment venue Fishlips, gives back by donating her space to various organizations (Ronald McDonald House, Alliance Against Family Violence, and Operation Interdependence, to name a few) for fund-raising efforts, as well as actively fund-raising herself. Since June 2007, she's auctioned 15 guitars from the Fishlips stage, including the guitars of Gary Hoey, Willie Nelson, Dick Dale, and Kenny Loggins, with all of the $56,000 going to charity.
And it's not just entrepreneurs who are giving back to their communities. Executive Wall Street women in the hedge fund industry started High Water Women, which funds nonprofits, runs financial educational programs for middle and high school students, and recently started the Young Women's Council "to introduce more women to its volunteer opportunities and to cultivate the next generation of organizational leadership."
These are just a tiny fraction of the examples I could give of the many different ways in which women incorporate giving back into their businesses, often in creative ways that don't necessarily require a large profit to pull off. (However, the more you make, the more you can give, of course, which is one reason women need to unabashedly pursue profit.)
So as you are sitting around the table tomorrow, I urge you to take some time to think about what you bring (and what you can bring) to the larger table we all sit at—our communities and our world. Whether we share our gifts or our money, our time or our resources, or all of the above, we can incorporate our purpose, passion, and profit into our lives, our work, our businesses, our world. We can ensure that everyone has a place at the table. And I, for one, am very thankful for that.
How are you giving back (or planning to give back) to your community? Have you incorporated giving into your business model, your personal life, your retirement? If you've found an innovative way to contribute, I'd love to hear your story. Please leave it in the comments.


Amazon #1 Best Seller Author of 11 books including The Ageless Way, Gray is the New Green, Visionaries Have Wrinkles, The Greatness Challenge and more.