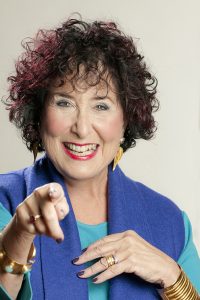 The phenomenon of growing increasingly invisible as we age, and using that invisibility to empower us and others to be change agents, is related deeply with the visionary attribute I discussed in "Unwrapping Your Presence" and "Stop, Look, and Listen". The invisible power to fly under the radar and quietly lead change, which I talk about in my powerful Forbes and Next Avenue book excerpt "The Positive Side Of Being An Invisible Woman"a part of the ineffable presence visionaries carry in their everyday lives.
When we resonate with our visionary voice in everything we do, our presence is palpable yet effortless. We are in the zone, going with the flow, yet able to move that flow in subtle directions simply by moving through it toward our clear vision. The flow moves with us, and the people around us shift as well, often imperceptibly, for we are all interconnected. The more others get into their zone, moving with the natural flow of nature and life, they more they too will be able to gently shift the flow toward their vision.
As more and more of us awaken our visionary voice, these gentle shifts in flow become a tidal wave of change.
Science is discovering the power of invisibility and presence in quantum mechanics. According to Heisenberg's Uncertainty Principle, the act of observing alone changes what is being observed. We do not need to be the visible bulls in the china shop to effect real change. Several small, subtle changes—many of them carried out through collaboration—can make a monumental difference in our lives, our work, and our world.
The word "presence" itself hints at multiple meanings. Within the word phonetically is both essence and sense. Presence is about getting to the core of your essence, discovering what really matters to you and stripping away the mental, emotional, and physical clutter in your life to get at what you are really about.
When you have this clarity of focus, you will find that your senses also sharpen. Without the clutter of our mistaken, self-limiting beliefs, our preconceptions, our commitments of time and energy to things that just don't matter to us, we clear the way for our senses to perceive what is truth—a necessary element of that other visionary attribute we've discussed, truth telling.
With our senses sharpened, with presence, we even gain the ability to "pre-sense," as first described by Peter Senge, to be so in tune with others, with the world, with the natural flow of things that we begin to expand our senses into the future, to sense the alternative futures we can create, the trends that we can use as tools in this creation, and the ripple effects of our possible actions. I'm not talking about fortune telling but keen perception that we can all develop in a way that makes all of us not only visionaries but Everyday Futurists.
As you focus on how to use invisibility to empower you to make change, I recommend that you also take the time to reflect and make conscious choices about what really matters to you. If you start clearing away the clutter from your life today, the boulders in the stream interrupting your flow, you will be that much more empowered to change your world tomorrow.
What mental, emotional, and physical clutter is obscuring your essence, what you are about?