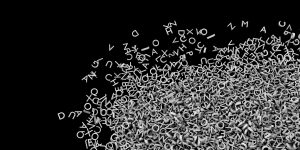 The words we choose can alter our thoughts, which can affect our actions, which can, simply put, start to change the world (or at least our ideas about the world). How our words are perceived and received may also depend on our intent and the context within which we utilize or frame them. Even the word "word" can have several different interpretations… For example, Oxforddictionaries.com, offers multiple definitions for "word," showing that it can be about, among other things, anger ("I want a word with you!"), a promise ("You have my word on it"), a person's account of the truth ("His word against mine"), or simply a single distinct unit of language.
In decades of work as a leading GeroFuturist aiming to transform the story around our culture's approach to aging, I have often spoken and written about this issue. I continue to assert that a large and vital part of our new boldly vibrant story is dependent upon the language we use to define and describe growing older — to ourselves and others, and by those who serve and market to us. When we change or redefine the terminology we use in those descriptions, we change the perception, truth, and dynamics of getting older across the lifespan (for twenty-year-olds, as well as centenarians – and everyone else in between…).
It may sound simple, but it's not easy. So how do we integrate individual and cultural mind shifts in order to change the "languaging" around adult development and growing older? Something has to give! A perfect example of misplaced, yet commonplace, labeling as we grow older is referring to Baby Boomers as "seniors." I can assure you that those of us over 40 don't relate to that at all. In fact, it makes us cringe and run in the opposite direction. Yet, "senior centers" across the country continue to bemoan and wonder why Boomers aren't banging down their doors for "senior" services and community-building.
We clearly need new terminology to help shift the paradigm. We need a full expression of the affirmative, powerful, and even juicy aspects of aging. Old dismissive stereotypes do not consider the reality of those of us entering or beyond midlife as capable of being fully active physically, socially, mentally and professionally (to say nothing of the fact that the over-40 crowd is the largest adult consumer demographic and, thus, worthy of priority marketing and product development focus). Manifesting such transformation, as with all vital historic movements, will take patience, determination, effort, awareness, intention, time and acceptance.
As is the case with so much in life, there is not just one way to think about growing older or the terminology around that process (a process which will happen to all of us lucky enough to live "to a ripe old age"). My vision for the new story of our times is rooted in an approach toward aging that is "Ageless."  At this juncture, this word may mean different things to different people.
A retired literary professional recently shared with me that when she hears the term "Ageless" she thinks of it as dismissive of aging, since it seems to infer wanting to avoid looking or growing older. I see the term in a different way, as being age-affirming. Ageless, Ageless Aging, Agelessness (and timeless) to me are all about transcending age at any age… all while owning our chronological age …whether 30, 40, 70…101. Agelessness involves not being defined nor limited by our chronological age at the same time as welcoming/embracing whatever age we are.
Agelessness is about transcending our limited, dismissive and insufficient attitudes toward aging so that we see ourselves and each other as whole and precious parts of a larger evolution with many births, rebirths, endings and new beginnings…no matter what our age or life stage. This does not mean we deny our aging. Instead, being Ageless and embracing The Ageless Way is evidence that we, at every age, own the vitality of life within us and our value, and remove the limits culturally placed on our youth and our elderly.
I feel so strongly about the importance of boldly shifting our definition of the word Ageless (as it applies to Ageless Aging) and proclaiming it as central to our new story of what it means to grow older, that I have titled my upcoming book The Ageless Way.
So, together, let's re-cognize the abilities inherent in growing from youth to midlife to becoming an elder. Rather than seeing Agelessness as working against the fulfilling life all of us can envision for ourselves, our communities, our world, we will move forward with that word as a testament to our ability to surpass the heretofore ingrained and perceived limitations of aging. Will you join me on that journey?
What does being "Ageless" mean to you and what is your reaction when you hear that word? What are some words associated with growing/being older which no longer have any bearing on the NEW story of our age?