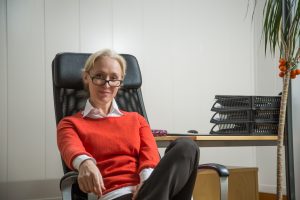 When we look at women's power in the workforce, whether running their own businesses or working as executives or on boards in the corporate world and academia, we can view the situation as negative or positive depending on our focus.
Obviously, women are still underpaid and vastly underrepresented in positions of power, although this is changing (glacially). Silicon Valley just added another woman to its top executive list, with Marissa Mayer as the new CEO of Yahoo (joining Meg Whitman of Hewlett-Packard, Virginia Rometty of IBM, and Sheryl Sandberg of Facebook).
Yet the fact that this is news only shows how far we have to go.
Another positive development is the recent rather dramatic shift in employment among women and men over 55. According to a study by Challenger, Gray & Christmas, reported in Fortune, people over 55 have been awarded nearly 70% of the jobs created in the United States since 2010. Companies are looking for managers and professionals in particular who have the experience and demonstrated ability to weather storms like the economic chaos of recent years.
Many more women are bypassing the entire question of whether the glass is half empty or half full by starting their own firms. As I've written about before (e.g., "How Being Successful Can Save the Planet"), women-owned businesses are growing at an ever-increasing rate. The recent State of Women-Owned Businesses Report cites an amazing 54% growth rate in the past 15 years! This translates to annual revenue of $1.3 trillion dollars.
Add this to the spending power of women, especially women over 50, and one thing is clear—one glass isn't even close to big enough for the tidal wave of women who will lead the way into the future for all of us.
What can we do to move these trends along even faster? Here are just a few ideas:
Coach and mentor women to step up and out as visionaries, creating opportunities that match their gifts with what the world needs now
Support funding efforts (including grassroots organizations like kickstarter.com) that bring women's visionary ideas into fruition.
Build more and strengthen existing networks of women, online and off, connecting professionals, executives, business owners, and visionaries-in-the-making of all generations.
Recognize (and spread the word about) the measurable impact on all of us of helping women in particular to create money-making futures that matter (as detailed, again, in "How Being Successful Can Save the Planet").
What are your ideas for supporting each other in bringing our visions to the world?


Seeking a Firecracker Keynote?
Calling for expert guests?
Let's Rock Your AGE, come pick my brain!