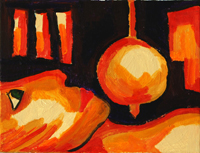 The phrase "midlife crisis" for many brings to mind clichéd images of men quitting their unfulfilling jobs and leaving their wives to ride off into the sunset with younger women in their shiny new sports cars. Since the term was first coined, in 1965, by Elliot Jacques, much attention has been paid to this psychological phase of life, yet even today, that attention seems to focus almost exclusively on men. Daniel Levinson, the researcher who rooted the idea firmly in the popular imagination, demonstrates this in the very title of his well-known book on the subject: The Seasons of a Man's Life.
In a recent blog post on Scientific American, research psychologist Jesse Bering discusses whether the midlife crisis is even a real empirical phenomenon. Yet even this article, written only days ago, in 2011, barely gives lip service to the experience of women in midlife.
None of this is much of a surprise when you consider that research into such crucial subjects as heart disease has only recently begun to focus on women, only to find that heart disease does indeed affect women differently, that you can't generalize a man's experience to a woman's. Is the same true for the midlife crisis?
What would we find if we delved more into the unique experiences of women? Would the difference be generational more than anything? Do women in midlife and beyond today have different longings, regrets, and views on the time they have left than their mothers and grandmothers did? Or are the dichotomies still essentially the same, the choices we make in how we split our time between nurturing others and nurturing ourselves, independence and dependence, work and family?
I propose that we don't wait for the research to catch up. Women need to share their experiences and define themselves now more than ever. If we intend to have even more of a presence, to make a difference in the world, we need to start by being present to ourselves and to each other. We can't decide where we're going next, where we want to lead ourselves, our communities, our world, if we don't know where we stand in the first place.
I would love to hear from you in the comments. Do you "believe" in the midlife crisis? What has your experience been in midlife? Are you moving through midlife and beyond with a clearer sense of purpose? How do you think your experience as a woman is different from that of a man in the second half of life?
Image credit: MinimalistPhotography101.com, via Flickr Creative Commons