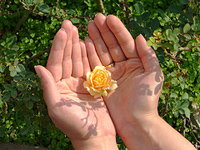 On Thursday, I talked about two physics concepts that apply to our lives, our work, and our world: resonance and dissipative structures. Resonance teaches us that with the right timing, those of us of like mind, on the same wavelength, will have a magnified effect on the world when we come together—a much greater effect than even the sum of our efforts. The result is a sort of force field created by the collective energy coming together, a field so powerful that it creates enormous shifts.
Dissipative structures demonstrate that the right timing is now, that from great chaos and uncertainty emerges order—new systems, structures, ways of being and doing while remaining coherent and in sync with ourselves, each other, and the planet. We can be a part of creating what comes next for us and for the world, or we can risk dissipating into irrelevance in a future that has no place for us.
Based on current and likely trends (such as those described in "You Don't Need Psychic Powers"), I believe that women, particularly women post-fifty, are poised to reshape the future for all of us. We have financial and voting power like never before. The leadership skills of the future are in our DNA—more and more businesses are recognizing that profit goes hand in hand with collaborative, values-based leadership and flexible win-win employee arrangements that arise from the feminine emerging in all of us. In a very short time, there will be a huge shortage (think millions) of knowledge-based workers, and women, who outnumber men in institutions of higher education (particularly in earning advanced degrees), will be the ones who step up to fill these roles.
President Obama's recent emphasis on higher education calls to mind President Kennedy's push for science funding and education in the midst of the space race, which quickly led the United States to the top in science, technology, engineering, and mathematics (STEM). Today, we have even more power in our hands to collaborate and share ideas (such as TED does so brilliantly), and women and girls in particular are in a unique position to level the playing field on that last frontier, with more encouragement than ever to go into STEM fields. That three young women took the top three prizes in the first international Google Science Fair, and a young woman took the grand prize this past year, is prophetic of what's in store.
The future looks bright, but it won't necessarily stay that way if we aren't lighting the path. It's easy to fall into complacency, to wait it out. I was one of many women who fought hard for women's rights and equality in the seventies, never thinking we'd see anything like the backlash against women we're seeing today. And even the promise of STEM is not a given, with budget cutbacks threatening STEM education, the one area with the most potential to pull us out of this economic pit we're in, as individuals and as a nation ("Where the Jobs Are, the Training May Not Be").
Right now, the future is on our side as women, but only if we stay awake and alert. Only if we act. Now is the time to awaken (or reawaken) the visionary within you, to create a vision for your personal and professional future that intersects with what the world needs. The more of us who do so, the more our visionary voices will resonate with each other to tear down what no longer serves us and rebuild a future that works—for all of us.
Image credit: Photograph by Hamed Saber