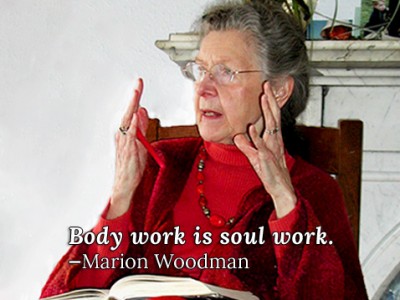 For me the letting go has been bittersweet this midsummer.  One of my most loved and revered mentors, Marion Woodman, has passed on after several years in the throes of dementia. If you have not heard of her, it's high time you did. Marion was one of the western-world's most impactful wisdom keepers in feminine psychology and addiction…she is one of my cherished "Visionaries With Wrinkles", (2012) who illuminated the way forward for me, and countless others.  Writing and speaking tirelessly, Marion wrote about the rising Feminine around the globe…within our Mother Earth, within us and deep within our psyche.  The epitome of what I refer to as "humanility", and the embodiment of the sacred dark Feminine, Marion stirred our unconscious as she ushered we women into our universal birthright.  I feel her loss deeply.  At the same time, I know she sits beside me as I write…as she always did.

As I reflect on Marion's life and death, her last book, Dancing in the Flames, (2009), comes to mind…it is a hefty excursion into Menopause, spirituality, Soulwork and women's Elderhood, (All our shared fave subjects.)  It's not an accident that an incoming email blasts a headline I cannot resist reading:

FDA warns of vaginal 'rejuvenation' promises of better sex, menopause treatment.Not Approved. Devices are not being used for what they were intended. 

It's high time to lift the veil on women, aging and our health & well-being concerns.

Sadly, most of us don't belly up to talk about these taboo topics…not even with each other, our significant other, nor our physcians.

But it's not okay to be mercenary or irresponsible at women's expense.

We women are not expendable.

We women are the future!

It's Our Time!

The good news for women is that we are in the early days of the Longevity Economy, a market category of the $7.6 billion of goods and services for the 50+ demographic, coined and envisioned by Jody Holtzman of Longevity Ventures, LLC.  By 2032 this number is estimated to more than double.  A majority of recipients of these goods and services, as well as the majority of the Ageing sector's workforce will be female.

Here's the rub.  We have the benefit of science and medicine on our side, plus the enormous opportunity the Longevity Economy offers us to create a new story of our AGE. But our age-ing story is a very different one from any other gender.  Menopause is a deeply rich and defining time for every woman. The experience is not the same for all women, but there are certain parallels that are universal.  We are confronting a new way forward, women 40+ in our enormous numbers have never before walked this path. There is no paint by numbers map to guide us. We are creating it as we go…together.  It's going to be a hot time for women that's for sure!  Watch out world we are rising as a powerful, paradigm shifting Feminine energetic force field Marion Woodman championed.

But nature and the reality of time passing still rules.  There is one universal question I always hear as I traverse the country speaking in person or online around the world, and most definitely with my private clients no matter their gender:

Who am I, If I'm No Longer Young?™

Here's my response:

Today in the middle of the chaos heating up that is engulfing us all, both here and abroad, I watched a video about Inge Ginsberg, an American 96yr old Holocaust survivor, and a former Hollywood songwriter-poet, who now in her 4thquarter sings her poetic lyrics to Heavy Metal music.  Inge's lyrics call humanity to value age-ing, and to protect our planet and peoples for the future…I can't agree more! Inge is the epitome of a what I refer to as a "Great Old Broad™" speaking out.  We all can and should do the same!

Another Ginsberg, our U.S. Supreme Court Justice Ruth Bader Ginsberg came out firmly and powerfully announcing that she's in the game past 2020!    Ruth is a Visionary Patriot with Wrinkles.

I aspire to be as much like these two women as possible. Neither of these two women are pushovers. They are the truthtellers of our times.

We are the Wise Women Elders among us.  

All of us can develop our Wise Women Elder within and without.

Age does matter.  

Now is the time to transform our age into an asset, instead of a liability.