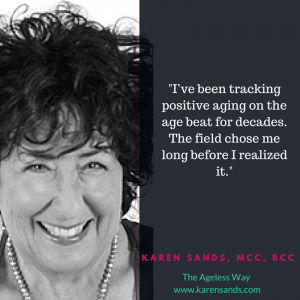 As a professional futurist and transformational certified gerontologist, I've been tracking positive aging on the age beat for decades. The field chose me long before I realized it. It's been a long deep dive and a challenging open-ended solo journey, applying foresight to our shifting demographics as we traverse discontinuous changing times. All the while, I've been honing an evolving aspirational view of the future, which perfectly dovetails positive futures with positive aging. Little did I know when I graduated Hunter University's Brookdale Center on Aging (under the duo auspices of Rick Moody and Rose Dobrof, DSW, back in '94, that I would become a leading GeroFuturist steeped in positive aging and conscious aging.
Birth of a Movement
We've come a long way, baby, since the early days of this movement, which appeared to emerge out of the shadows in '92, when the upstate NY Omega Institute hosted the first two annual conscious aging conferences. I was there with a cast of the early neo-elderly "greats" coming together in one place, such as my favorite Jungian author Marion Woodman, Baba Ram Dass (last year's PAC keynoter), Rabbi Zalman Schachter-Shalomi, Gray Panthers founder Maggie Kuhn, Robert Bly, Rick Moody, and a cadre of other pioneers.
Then back into the shadows we went. The next conference was to be held in San Diego, California, in 2001, but it was canceled for the horrific reason that we were to convene and present on 9/11! It took another seven years until PAC was rebirthed onto the aging stage, calling for the positive aging movement to come of age. And so it is. How grand that we are sharing this transformative time in the aging field together.
Karen Sands, MCC, BCC
Phone: 203.266.1100
Email: karen@karensands.com
Website: www.karensands.com
Address: PO Box 43 Roxbury, CT 06783-0043