Gray is the New Green is a paradigm shifting business book for visionary leaders, attuned marketers, savvy service providers, innovative entrepreneurs and trailblazing thought leaders who are ready to rock their AGE in the Longevity Economy by staying in sync with the people who keep your doors open and your business booming!
With the current economic conditions and shifting paradigms of the longevity economy, you will need every bit of market intelligence, practical tips, ideas and connections you can get to meet your Triple Bottom Line goals of People, Planet & Profits in these VUCA Times…and beyond.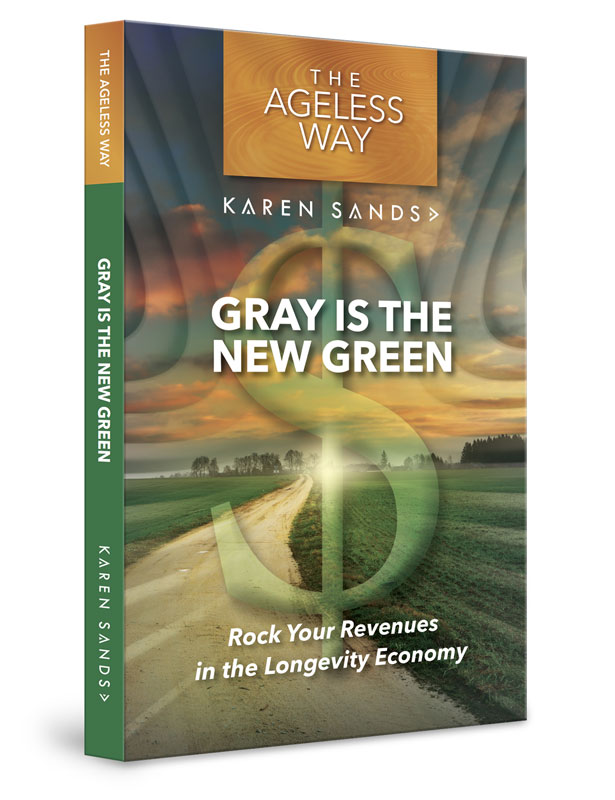 The old story, that youth rules, no longer applies. Our future hinges on recognizing the needs and contributions of all generations, most especially those of the expanding 40-plus market, especially Baby Boomers who are raring to add value, many seeking to join the Grand Return in response to the Grand Resignation. Most importantly, Ageless Boomer women who mean BIG business will drive our futures!
Discover how demographic trends coupled with cutting-edge findings will positively influence your future leadership, business development, and succession planning. You'll learn about the opportunities and challenges of serving the "platinum" market and how to leverage them—as well as the personal challenges and opportunities of each of us who are looking at mid-life and future encores in the mirror.
Learn why and how to communicate with the 40-plus market—how to leverage their talents as leaders, employees, and employers, how to develop products that serve their needs and how to market them to generate a positive purchasing response.
Enriched with new Whole Brain Foresight™, the Longevity Economy can offer rich opportunities for you and your enterprise—large or small, if you are ready to innovate with the times. Find your place before it's too late!
I share my unique perspective to usher in an evolutionary change in the business community to engage the workforce and the marketplace, so it transcends itself into the entire Ageless population—and in doing so, transforms the business world, the workplace, and the marketplace in visionary ways that contribute to the Triple Bottom Line of People, Planet, and Profits. If you are ready to rock your revenues in the Longevity Economy by staying in sync with those who keep your doors open and your business booming, it all starts within these pages. 
Gray is truly the New Green!
"Always ahead of her time Karen continues to turn the business of aging and the aging of bu9ijess on its head, a boon for women and men."
~ Nelson Broms, Social Entrepreneur Extraordinaire Former Chairman/Holding Company Equitable Financial Services
"Karen is one of those rare individuals who understands that our extended longevity unlocks major opportunities…Her book abounds with inspiring, practical, and actionable advice."
~ Elizabeth Isele, Founder & CEO, The Global Institute for Experienced Entrepreneurship, Senior Fellow in Social innovation, Babson College
"A definitive book. At a defining moment."
~ Elsie Maio, Founder of Humanity Inc/The SoulBranding™ Institute