More and more companies are recognizing that an investment in employee well-being is an investment in sustainable success. This goes right along with the trend toward green business practices, which consumers actively look for when choosing among companies to patronize.
In other words, sustainable business in the 21st century is one that meets what I've advocated for years—the Triple Bottom Line: People, Planet, Profit.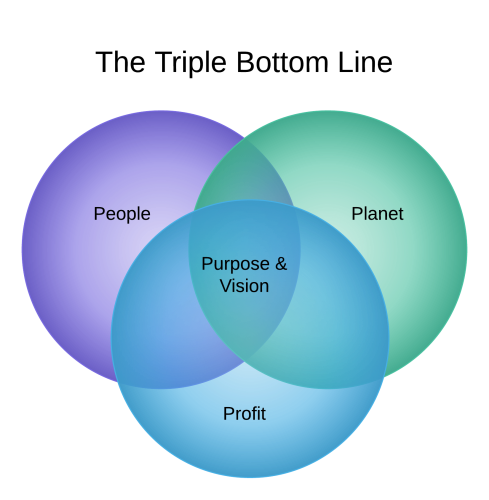 Tying all of these together is a central focus on purpose and vision. What is the purpose of each individual in your organization, including you? What really matters to us? For many, at the top of the list are family and friends, our health and that of those we love, and the need to make a difference in the world. Understanding what matters most is essential in creating a vision that transcends traditional definitions of success.
When a company consciously invests in the overlap between our individual sense of purpose and vision and the organization's purpose and vision, that investment pays off in attracting and retaining top talent, increasing productivity, and lowering health care and absenteeism costs, just to name a few.
Likewise, looking at how our business purpose and vision can overlap with that of our planet, both in environmental causes and social justice, will not only serve those in our company whose individual purpose is to make a difference in the world. It will also serve the increasing numbers of customers and clients, especially among 40+ women, who consciously choose companies that share their values.
The Triple Bottom Line means:
Purpose & Vision: Organizational + Individual + Planetary = Profit
And in turn, that profit feeds back into our ability to focus more on what matters most to us as individuals, as businesses, and as a global community.
Which element of the Triple Bottom Line needs the most attention in your organization?