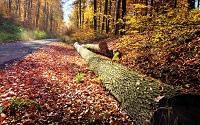 "Human beings have a very limited ability to accurately predict or even imagine the needs of their future self. It is especially true when that future contains scary possibilities."  ~ Dr. Bill Thomas
I lost my mom before she died. I could no longer deny that her Alzheimer's was full-blown. She had early onset of the disease when I was a teen. Now suddenly, at 28 and a young mom myself, I had to face that she was really gone. There was no retrieving her. She was only 59!
Mom went from living alone independently to needing constant supervision and professional care in a nursing home that specialized in Alzheimer patient care.
As a family, we'd never talked about how we would care for our parents or what provisions were to be made for their eventual passing. My older siblings, far more astute on these matters than I (having faced Long Term Care — "LTC" — needs of other family members), sprang into action and garnered the help from an array of trusted advisors we needed to sort out the best care for Mom.
Let's face it, it's never easy to work out complex logistics and quality of care concerns. But I guarantee you it is far more overwhelming and devastating when done in crisis mode intervention, which only exacerbates stress and intolerable grief. However difficult, it's wise to plan for LTC sooner rather than later.
I assumed this waiting till it's too late modus operandi was attributable to my family's dynamics. Over time, however, I learned that this is more prototypical than not. In fact, when I asked Activist-Philanthropist Elly Guggenheimer, then age 86, during our interview for my book, Visionaries Have Wrinkles, "Do you talk to your children or do they ask you about your plans for your end of life?" she responded, "No, absolutely not. I never sit down and say to my children, 'Let's talk about my end-of-life planning.' "
What a pity that so many of us don't have these conversations with our kids (much less our spouses or partners) long before we reach a crisis point. Instead, we wait until it's too late.
This has all hit home for me this spring as I am recuperating from an old injury thrown out of whack by an unrelated surgery at the beginning of 2015. Albeit temporarily, this has put me out of commission physically for several months. I'm an independent woman and my freedom is paramount to me. Yet, during my recovery I have had to rely on others to drive me anywhere and everywhere, prepare my meals, and much more. I even had to move my "office" from a room requiring staircase access to my main floor living room. All of these "inconveniences" have caused me to wonder how this would be if it happened when I was a lot older. Or, what if my adoring husband of almost 40 years wasn't able to care for me or wasn't with me any longer … how would I manage?
While machinating on LTC, I received a report from Senior Care entitled, "America Has a Major Misconception on Aging." I highly recommend you take a moment and download it for yourself, your health care providers and your family. I'm pretty savvy on aging and the adult life course, but the stats reported are a wake-up call I can't ignore, nor should you. For instance (this was a shocker for me!) — what would you guess is the percentage of Americans who will need LTC (e.g.: nursing homes, assisted living, home health care, informal caregiving)? Apparently only 37 percent of us think we will need LTC. In actuality, that number is closer to 69 percent (approximately 2/3 of us).
But the royal Holy Cow for me was discovering that 75 percent of Americans have not had LTC discussions with family members! This lack of pre-planning can result in greater emotional and financial strain, as well as less control over and/or fewer choices regarding preferred care.
So I ask you, have you had a serious conversation with your loved ones? It will never be a "good time," but I assure you now is a better time than later.
(Note: June is Alzheimer's & Brain Awareness Month. Find out more at: Brain Awareness Month)
(Image Credit: Langholz by Wolfgang Staudt, flickr.com)