I'm tripping out on getting older…my awareness is shifting…subtle shifts. I admit I'm holding on to my thought that "I'm fine with aging" BUT lately… I'm noticing now that I'm the oldest in groups, in my circles… it's beginning to get my attention.
~ Helene S., age 45
The stories we tell ourselves and one another are what inform and shape how we live and age…and how we show up in the world. It's time now to clean up our outmoded past stories and our "now" stories about what it means to age, what it means to be Ageless, and how to be firmly moving forward on our Ageless Quest to follow The Ageless Way.
In Once and Future Myths, Phil Cousineau states it this way: "Understanding of the stories at the heart of our lives that reveal – in a way nothing-else can – just how it is that we choose our destinies." I couldn't agree more.
What Does It Mean to Be Ageless?
It's a Shift. It's a Stage. It's a Perspective. It's a Way of Being. It's a Gift.
My new favorite folktale, The Old Woman's Hide, of Italian origin, selected and retold by Italo Calvino (1956), shines the light on what it means to be Ageless by allowing us to "try it on for size." In so doing, we can trick the Fates as we face the challenges and reap the rewards of following The Ageless Way by spinning our own feminine destiny and re-storying our lives on our own terms.
The tale opens with a king, a father of three daughters, preparing to leave on a trip to a faraway fair. Being a generous and loving dad, he asks each of his girls what gift she would like for him to bring back to her. The oldest of the girls asks for a kerchief, the middle daughter asks for high-top shoes, and the youngest asks for a box of salt. The king, befuddled by his youngest and favorite daughter's request for such a large amount of salt, yet wanting nothing pretty for herself, asks the two eldest daughters why. The sisters respond on cue, "To pickle you of course, dear father."
Totally thrown by their explanation, yet believing them, he goes into a hurtful rage and tells his youngest that she must leave his castle, and curses her with poverty and misery. At the last possible moment, the king softens and realizes he can't send her out into the world unprotected and empty-handed. He commands her Elder woman nursemaid to join her on her journey and gives his princess a small bag of gold.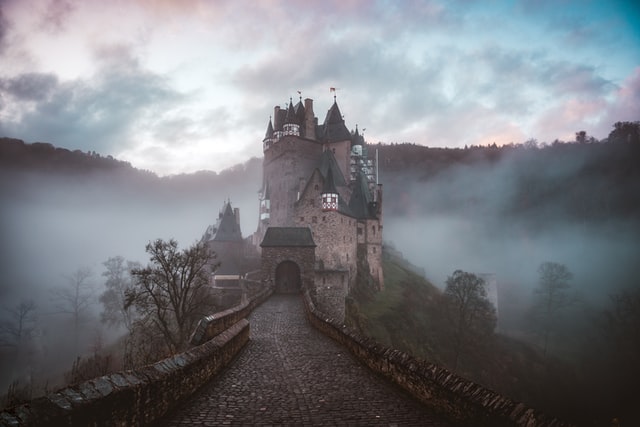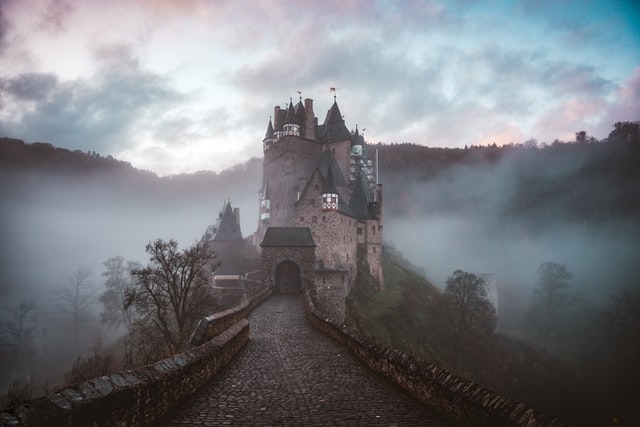 Never having left the protected confines of the castle before, the lovely maiden princess finds herself both confused by and afraid of the unwanted attention and sexual advances from the men they meet on their way. This is an experience many of us know all too well, whether while transitioning from pre-pubescence into adolescence, leaving our father's house (and perhaps our husband's house), or in our mature years when we find ourselves on our own in what is still a man's world.
As they wander, they come upon a grave digger who is about to dig the grave for an Elder woman who had just died at the age of 100. Since back then, even more than now, a 100-year-old woman would connote a Crone with great lived wisdom, the nursemaid protectress has an "aha" flash and asks the grave digger, "Please will you sell us this old woman soul's hide?"
After a few rounds of haggling, they agree on a price and "the grave digger picks up a knife, skins the old woman wrinkle by wrinkle, and sews her whole hide together with face, white hair, fingers, and nails." Then the nursemaid lines it with cambric and makes the girl a dress of it. Now the princess has a hide to hide within, symbolic of our own Inner Maiden archetype hidden deep within our psyche, below the surface.
Disguised as a Crone, her humor, delight, zest, and boldness rise to the surface safe from untoward advances and possible sexual assault.
True to all our heroic myths, an unknown prince rides by. He hears the "young old" girl chattering and cavorting and is so taken by this spry, energized, and very funny old one that he asks, "How old are you, old one?" Our sassy, outspoken girl in the old skin answers with, "I'm a hundred and fifteen."
Taken aback, he questions her further. "Where did you come from?" With a smile she responds, "From my town." Not satisfied, yet amused, he asks, "Who are your parents?" Without hesitation she responds, "I'm my own mother and father." "Then what is your occupation?" the prince continues to probe. This time, when the girl in the old hide says, "Having a good time!" the prince loses his composure and bursts into a belly laugh. He has such a good time, he decides to take the old Crone home with him to keep him company and make him laugh for as long as she manages to live.
Our Hide Crone, having passed through her own crossroads, has learned to accept, to surrender her ego wants, and to accept her destiny. This deep acceptance of her destiny is what unites her Hide Crone with her hidden maiden. This new sense of freedom to stand in her own shoes, to raise her voice, brings with it a childlike energy—one of spontaneity, play, laughter, and creativity. It is the maiden (represented by the Virgin in the feminine trinity of the Virgin/Maiden, the Mother/Adult Woman, and the Crone) who is forever transforming into the maturity of the Crone all along The Ageless Way.
The prince's mother, the queen, calls our maiden in the old hide "Rotten Eyes," because her eyes are unreadable and look bleary from the bland coloration of the hide. The queen admonishes our Maiden-Crone saying, "Too bad you can't spin anymore with your poor vision." Our virginal Maiden-Crone responds that when she was young she was a very fine spinner, so the queen commands that she spin.
In seconds after the queen leaves, the maiden locks the door, jumps out of her old skin, and sits down to spin the flax into beautiful thread, passing the queen's test with ease.
Not believing her eyes, the queen asks Rotten Eyes to make her a blouse.
No surprise, as soon as she is alone our Maiden-Crone locks the door and pulls the hide off again. She "cut it out [the blouse], sewed it up, and embroidered the front with the daintiest gold flowers you ever saw." As you and I know, folk and fairy tales are never to be taken literally… her embroidered golden flowers represent her own flowering and the dawn of her golden age.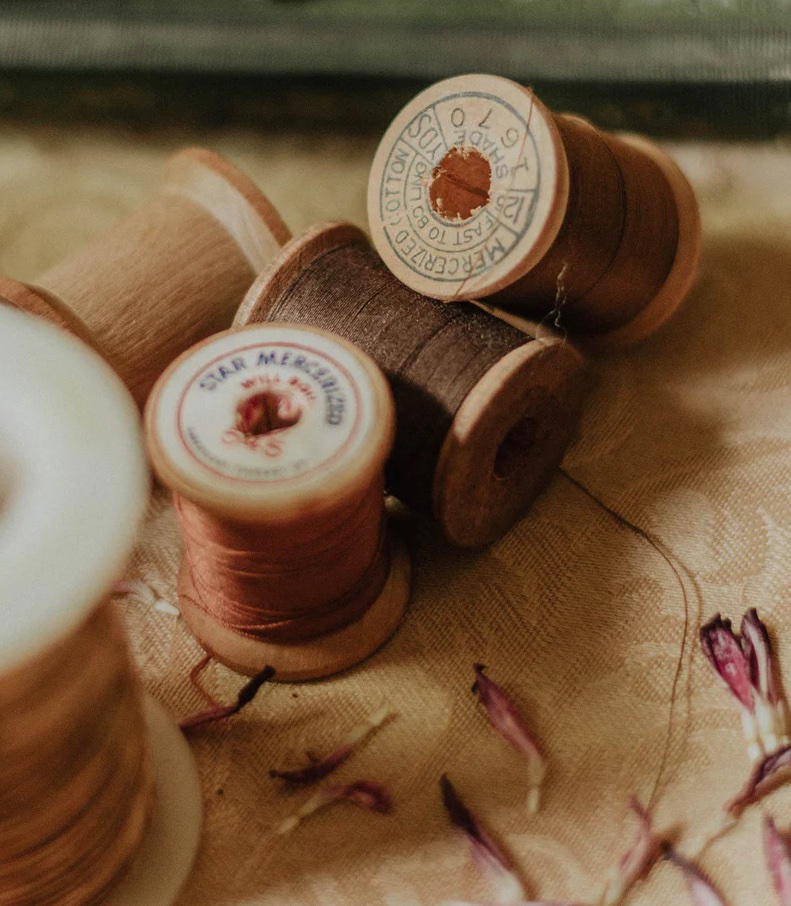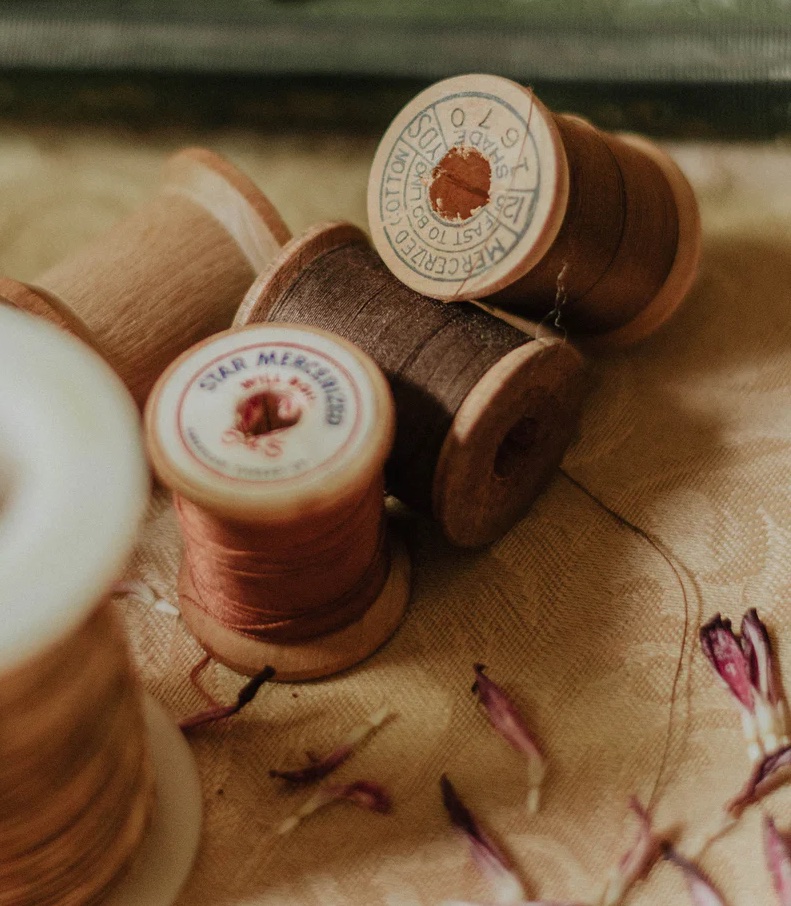 But now it's not just the queen who is in doubt. Now everyone is suspicious…primarily the king's son, the prince, who spies on her the next time she locks her door. That's when the prince sees her transform from a Crone. Like any good prince, he breaks down the door and embraces the girl, demanding to know why she has been disguising herself as an old one. Our maiden spills the beans, explaining that she is the child of a king who has cursed her and disowned her.
The Crone Energy, depicted here as Hide, is strong enough to guide both men and women into the Sacred Dark Feminine of the emerging Virgin and the Crone where they can experience their own Shadow Feminine. A marriage symbolizes the integration of both aspects into wholeness.
A wedding celebration is held, and all the kings and queens far and wide are invited, including our princess Hide's father. Our princess asks that she be in charge of the preparation of her father's food, and asks that no salt be added to his food except for the roast to be served last.
To the princess' delight, after each first taste the king doesn't eat the boiled meat, nor the fish, but gobbles up the roast.
When the bride comes to reveal herself to her father, she asks him what was the matter with his meal that he took only one bite and had no more until the roast. Her father tells her that "the roast is so delicious, full of flavor, and everything else had no taste," to which she responds, "So now you see how awful food is without any salt in it?" Proudly, she tells him, "That's why I asked you to bring home a bag of salt when you went to the fair, but you believed my older sisters that I wanted to pickle you."
All ends well, of course. Her father embraces his cherished daughter and begs for her forgiveness. Her sisters don't suffer immediate death, as in other tales, but are sent away to live in poverty and misery.
The upshot of this tale is that the Ageless Feminine spins her own destiny story as she journeys along The Ageless Way. She embroiders her own heart of love and her outspoken voice into golden flowers representative of her Ageless golden life now coming into full flowering. She reclaims and fully embraces her true value in life by creating a taste for life on her own terms.
This is The Ageless Way.
We don't have the luxury of trying age on for size, but we do have the gift of our Inner Maiden-Crone to own a new Ageless story of Our Age.
It's time for us to journey along The Ageless Way.
---