When the Going Gets Tough,
Reinvent Where You're Going
Transform your future in turbulent times.
Times are tough, and we are juggling more than ever. Many of us have put their dreams on hold until after the economy improves, after the kids are out of the house, after we retire . . . But the world needs your dreams now more than ever. In turbulent times, the future is yours to create.
Join me for conversations that matter about transforming your future, including practical strategies, tips, and tools for reinventing your life and your world. Learn the steps you can take to achieve not only success but fulfillment, to profit with a purpose. The future begins now.
In this 1-hour FREE teleclass, you will learn the 5 secrets to a reinvention that lasts despite tough times—even because of tough times. With these secrets, you will learn
The first steps you need to take to ensure your business, career, and personal goals are on firm footing right from the start
Why even established businesses with successful track records are going under and what you can learn from their mistakes to not only survive but thrive
Why now is the time to start planning your next move—waiting to begin reinventing your future is the biggest mistake of all
The secrets to creating alternative futures that allow you to adapt and capitalize on change and future trends.
How to assess exactly where you are so that you can map where you're going and what you need to do to transform your life—and the world
Now in these uncertain times we are all at risk . . . The short-term difficulties of a recession and swinging markets can bring us to our knees.
Most of us dig our heels in or keep blinders on, holding on to what we have for dear life.
But in these times, the only people really holding on to anything of value are the ones who are willing to let go . . . releasing the old habits and fears that keep them from acting on their potential to be truly great.
You don't have to choose between profit and purpose. You can have it all.
Whether you are between jobs, contemplating retirement, a new or an established entrepreneur, or working for a business or corporation, you will love this opportunity to strategize for a more successful and significant tomorrow. If you are ready to catalyze change in your life, business, or workplace, this is an opportunity you won't want to miss . . .
AND meet others who share your same forward-looking view!
When the Going Gets Tough,
Reinvent Where You're Going
A FREE teleclass with two dates and times to choose from.
And as a bonus, you get my FREE article:
"Stars Shattered and Dreams Shuttered"
Why am I offering this for free?
It's a good question. The reality is that I would be making extra money if I were to charge for this teleclass. Over the past thirty years, as The Everyday FuturistSM and an author, speaker, and ICF Master Certified Coach, I have catalyzed successful futures for people like you who decided they wanted a life and career that is not only profitable but purposeful as well.
But I have a very specific reason why I'm giving this class to you for FREE.
I'm doing this because I want to create a long-lasting relationship with you, and I want to invest in your success as well. I believe that our success as a community and as a planet depends on the success of individuals. We're in this together.
And it's also because I believe in the values we all grew to love in the '60s, values now shared by younger generations. I believe that we can change the world, but we each must fully express our unique gifts. We are at a critical juncture in human evolution, and only by expressing our unique greatness will we find the answers to some of our most daunting questions.
"What's next?"
"Is it too late for me to change my life or enter a new field?"
"How can I reinvent myself and my life while still ensuring my financial well-being?"
"Is it really possible to make a difference in the world and pursue my personal vision?"
"What has to change so the business I've built or the career I've mastered will survive tough times?"
At the root of these questions is the false belief that we have to limit ourselves and sacrifice our dreams for our needs. Either I do what I love or I do what keeps my family financially secure . . . either I change the world or I change myself . . . or toss in the towel—there's no time to do both.
But life is not about either/or . . . it's about both/and. In my 1-hr. teleclass, you will begin to take a bigger picture view so you can develop your own renewed action plan to combine your dreams and your vision for changing the world with your reality—your schedule, your lifestyle, your needs—without sacrificing the financial success you need to make it all happen.
I want to offer you a sampling of the tools that have made my clients' lives a joy and that have allowed them to live and work more meaningfully as well as more abundantly—and to delight in their gifts. I like to think the world is a better place because my clients are doing what is closest to their hearts, souls, and values. I believe the world will be a better place if you do the same, if that is what you are called to do.
It is never too late to reinvent. It is never too late to be great.
When the Going Gets Tough,
Reinvent Where You're Going
A FREE teleclass with two dates and times to choose from.
And as a bonus, you get my FREE article:
"Stars Shattered and Dreams Shuttered"
Remember when anything seemed possible?
If you are reading this, there's a good chance that you are a Boomer, somewhere in that age range of early forties to mid-sixties. Like me, you lived through the Flower Power days and you are one of the generation of change. You understand innovation; you know that revolutions of heart, mind, music, and culture can take place in the blink of an eye. You know that we can change the world.
So why stop now?
Is it time to just turn off the light and go to sleep or tap into that spirit of invention that is at the heart of being a Boomer, of living in the New '60sSM?
And if you believe in holding on to your high ideals, you know that we can each make a real difference. But I look around, and I have seen many from our generation lose heart and give up on their own dreams. Why do that? We have already achieved so much as a generation. Now it's time for your personal and professional revolution of reinvention.
Many of us get to a certain level of mastery in our lives and careers, and then we are ready to break through to something new . . . but we are not sure how to take the next step or how to discover new avenues to express ourselves and act on our vision for the future while we step ahead of the pack to lead.
Underneath we crave a deeper reason to get up in the morning, to go to work, and most of all to plan for our future—especially in these uncertain times. We want more—we are ready to change our world and reinvent our lives and careers or business. That's the Boomer way. And you can do it!
But first you have to get out of your own way.
For no obligation, you can discover how to create the change you wish to be.
When the Going Gets Tough,
Reinvent Where You're Going
A FREE teleclass with two dates and times to choose from.
And as a bonus, you get my FREE article:
"Stars Shattered and Dreams Shuttered"
The safe route is the biggest risk of all.
Deciding to take the next step is rarely easy. Nowadays it's even harder. Many of us want to cling to the tried-and-true ways of doing things to keep us and our career or business "safe."
But the patterns and routines that we think keep us secure can actually hold us back from the greater future that we are destined to create and lead. I have watched hundreds and hundreds of clients turn their lives, careers, and businesses around, some in a matter of months. They're not just making it . . . they're now making it great.
YOU too, can leverage chaos into creative opportunity even in turbulent times.
Stories From Real People
Don't take my word for it.
Seminar participants can say it better than I ever can.
Karen convinced me to start my new business as a "green consultant."
I now help businesses make greener choices that are improving the environment and their
image . . . and I am making much more money than before.
~David Milford*, age 59
Audacious Serial Entrepreneur
I signed up not expecting much, but I was very surprised.
Karen is generous with her ideas and advice and is really committed to helping others.
After one short hour at her teleseminar, I had moved much closer
to MY next step, which was to start my own advertising agency.
~Barbara Jacobs, age 48
Sr. VP top firm
Karen is inspirational and down to earth.
Every minute of the seminar was useful and well-focused . . .
and feedback from the other participants at the end was really great too.
~Susan Storrs, age 57
Corporate Attorney & CPA
If you are looking for a motivational hour that will let you know that
YOU CAN go for whatever your heart tells you, then you should check out Karen Sands.
She motivates you and also gives you concrete advice, strategies, and tools.
~Larry Stevens, age 61
CEO contemplating 3rd career change
The day after the seminar, I gave my boss an ultimatum:
Either let me start telling clients the truth about our products, or I am walking out.
I could not take one more day of feeling that I was not being totally honest with my
favorite accounts. My boss was so impressed by my integrity, he spent an hour with me
to get my input. Now, I do things my way, and my income has almost tripled because
I can meet my clients with my core values intact . . . just as Karen said.
~Jonna Navis, age 42
Corporate Strategic Consultant
* Names changed to protect privacy.
Life is just too short. Why wait another day to answer the question "Where am I going next? How can I make what I do matter? What can I do now to get ready for an uncertain future?"
You may already realize that putting off what you need to do to realize your vision becomes a habit. The more you tell yourself, after the economy improves, after I'm retired, after I get through this busy spring, . . . the more you push what matters most to the back of your mind, and the harder it is to take a step toward change.
In this 1-hr. teleclass, I want to show you that you can take that step without abandoning your practical concerns and without giving up your ideals. That first step is the hardest, but once you take it, transforming your life, work, and our world becomes a new habit you'll never want to break.
When the Going Gets Tough,
Reinvent Where You're Going
A FREE teleclass with two dates and times to choose from.
And as a bonus, you get my FREE article:
"Stars Shattered and Dreams Shuttered"
Talk with you soon,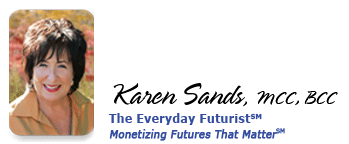 P.S. Please visit with me on Twitter, LinkedIn, Facebook & my Blog