Coaching for the Future
Making Futures GreatSM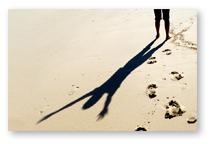 You Leave Your Mark on the World . . .
with Each Step You Take Toward Greatness
You already know what it means to achieve groundbreaking personal and professional success. Even as our global economy washes away much of what we've built, you see this as an opportunity to make fresh tracks in untested terrain.
And you never stop walking toward the sun.
Coaching for the Future is for people like you who recognize that true greatness is more than success, although it includes that too. True greatness means always finding new paths to take. The more footprints we leave in the sands of time, the more we inspire others to follow their own paths to personal and professional mastery and fulfillment. When we commit to unleashing our greatness and that of all people on Earth, we create a planet where everyone has more than just a moment in the sun.
Coaching for the Future guides forward-thinking people like you to . . .
Reach higher goals while staying grounded in measurable results.
Reach out to millions and create money-making futures that matter
Multiply your profits in ways that profit the world.
Blaze trails in innovative new directions from your core values.
Fully utilize your gifts and creativity to continually exceed your personal and professional best.
Change your future today!
Coaching for the Future Makes Change Work for You
Coaching is for professionals, executives, business owners, career changers, parents-on-the-go, executive teams, boards and partnerships, and individuals with vision.
If You Are Post 50 or Serving 50+, click here to Learn more about Coaching for the Future for 50+!
With Coaching for the Future, the future you envision is within reach!
I hold powerful, transformative Individual and Group Coaching Sessions:
BY PHONE

(one-time, monthly, annual & retainer program options)

ONLINE

(flexibility & convenience as we work together via email)

IN PERSON

(one-to-one intensives, tutorials & group formats)
My coaching and training philosophy is deeply rooted in transformation, innovation, and continuous self- (and soul-) improvement—because I understand that your personal and professional success is essential to the success of our planet.
The sands of life are constantly shifting under us. But when we—individuals and sustainable organizations alike—anticipate these shifts, we can move forward on sure footing. Together.
When Should You Hire Me as Your Coach?
Today's organizations no longer hire coaches only for underachieving employees.
Coaching today is valued for the best and the brightest leaders, to help them—
and the organization—grow collaboratively into greatness.
~ Karen Sands, MCC
Professional Futurist, Strategist & Master Coach
Coaching for the Future clients are:
GROWTH-ORIENTED INDIVIDUALS—who strive for self-mastery and expanded consciousness in all areas of life.
WELL-ESTABLISHED PROFESSIONALS—with successful careers and goals for future growth.
INDUSTRY LEADERS—well known in their field of expertise, influencing the direction of their professions.
FUTURE-FORWARD LEADERS—daring to live and lead ahead of the curve and exemplifying Six Sigma thinking.
INVESTED IN HAVING FUN—knowing that great relationships and a healthy life are ultimately at the heart of a great future.
FULLY AWARE—of the interplay between the personal and professional, honoring the importance of both.
I am consistently sought after by individuals, partnerships, and firms. Because of my extensive background with high-level executives and entrepreneurs, as well as in applying systems-thinking approaches, I have mastered the complexities and unique challenges of planning for the future.
I offer many flexible plans and fees:
Coaching for the Future is for you if you answer YES to any of these questions:
Have you wondered what our

FUTURE

holds?
Do you long to breathe life into your

DREAMS

?
Do you want to wake up every morning to a day full of meaningful success, thinking,
"This day is going to

ROCK!

"
Are you interested in building a lasting

LEGACY

?
Do you want to fully access your

CREATIVE

potential & that of everyone on your team?
Have you changed your views about

LEADERSHIP

?
Are you ready to take

INNOVATION

to the next level?
Do you want to put

SIX SIGMA

thinking into practice to live & lead beyond the bell curve?
Are your unique

TALENTS

still an untapped resource?
Do you struggle to establish/retain

FINANCIAL

freedom?
Do you wish your

RELATIONSHIPS

were more intimate?
Do you want to reinvent what

RETIREMENT

means?
Are you positioning yourself for a

CAREER

move?
Do you crave more

MEANINGFUL

experiences?
Do you want to live

LIFE

on your own terms?
I offer coaching
in person
by telephone
over the Internet
in individual and group settings
Still not sure if Coaching for the Future is right for you?