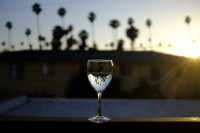 Last fall, I presented at and reported on the World Future Society's annual conference, World Future 2013: Exploring the Next Horizon. In addition to leading my own session on "Visionaries Have Wrinkles: Serving the Generation Who Will Change the World . . . Again" and covering the Global Summit on Education, I was drawn to report on the session "Dark Future/Bright Future: Either, Neither, or Both?"
The full article, "Is the Future Half Empty or Half Full?" has been published by the WFS magazine The Futurist and is available here.
Those of you who have been reading my work can probably guess why this session in particular called to me. Transforming our thinking from either/or to both/and is a fundamental concept in my work
As I mention in the article, "My usual response to 'either/or' questions is 'both/and.' The false dichotomies that harm us most are those that lead to self-imposed limitations—on what we are capable of, who we can be, and the aspirational futures we can imagine, for ourselves and our world."
I was thrilled that the talk, led by futurists Edie Weiner, Arnold Brown, and Jared Weiner, was so in synch with this idea, particularly that our assumptions can prevent us from even seeing alternatives.
Even more thrilling, however, was how brilliantly the panel format embodied this idea, with Edie presenting a topic and Arnold providing the optimistic outlook and Jared the pessimistic. From these polar opposite viewpoints emerged a more realistic picture of the future than either could have led to alone. In that sense, the takeaways from this session were much greater than just a sum of its parts.
I would love to hear your thoughts on the presentation as covered in my article, either in the comments section here or on The Futurist itself.
What strategies do you use to mitigate your biases when creating alternative aspirational futures?
Image Credit: Flickr, photo by dibnv