Many of you are probably familiar with Abraham Maslow's Hierarchy of Needs, which is typically depicted as a pyramid (shown below), with our most fundamental needs for food, water, security, love, and so on forming the foundational rows of the pyramid. Without these basic reptilian needs met, Maslow theorized, we would not be motivated to fulfill our higher-level needs for esteem and self-actualization.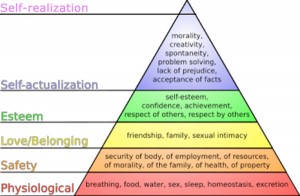 (Click on the image to enlarge.)
I believe there is yet one more level beyond self-actualization, and that is self-realization, the height of consciousness, when we fully realize our connection to all there is, to others, to the Earth, to the universe. Every particle within and without us is interacting as part of larger systems. Truly realizing this takes self-actualization to a new level, where we can act consciously in ways that ripple out beyond our selves, affecting our world profoundly.
Another way to look at this is as a spiral. We spend our lives circling further and further inward as we meet our basic needs and strive for those that can only be met by delving inside ourselves. Once we reach self-actualization, when we are whole and have what we need inside to bring fulfillment to our outer world, we can radiate outward again as we achieve self-realization, in a spiral whose arms reach out to infinity and back again.
Many people have yet to fully reach the higher levels of Maslow's pyramid, or the center part of the spiral, and even those who have reached self-actualization may find themselves slipping—or falling fast—toward the lower rungs of the pyramid, or outer arms of the spiral, because discontinuous change—super storms and other extreme weather events, the Great Recession—is ripping apart everything we thought we knew.
Even those who have felt actualized and come close to self-realization may find themselves suddenly at the bottom of the pyramid, where it is difficult to focus on those higher needs when other, more fundamental needs are being unmet. Attempting reinvention based on where you were in the past or where you want to be will likely leave you frustrated and stalled. Before you can create alternative futures, you have to first assess exactly where you are now.
Which level of the pyramid best describes where you are today?
Image credit: geekthings