You say you want a revolution.
Well, you know,
We all want to change the world.
You tell me that it's evolution.
Well, you know,
We all want to change the world.
The Beatles, "Revolution"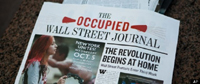 Occupy Wall Street is in its fourth week, with no signs of losing momentum. Just the opposite. Sister movements are arising not only all over the United States but all over the world. With bailouts leading to increasing CEO profits but very little job creation, poor or nonexistent regulation, and wealth inequality like something out of the Dark Ages, one thing is clear: Our leaders have failed us, so now we must lead the way ourselves. We are the change makers. We are the visionaries we have been waiting for. Now is the time to join others in taking a stand.
But make no mistake. Contrary to what critics of this movement are implying, this protest isn't about life not being fair, about sour grapes because some people are able to earn more money. It's not about money itself being evil. There is nothing wrong with wanting money. In fact, those of us who are managing to profit despite the recession should be the loudest ones to decry what's been happening behind closed doors on Wall Street.
Why? Because those of us who have worked hard to earn a profit, and those of us who are working hard, often two or three jobs, without being able to make ends meet, and the millions of unemployed—we all have one thing in common. It's our money lining the pockets of the banks, the corporate CEOs. This isn't about Wall Street making more money than Main Street. This is about Wall Street taking money directly out of our pockets through fraud and flagrantly unethical business practices that our government is either ignoring or outright supporting. Let's not sugarcoat it. This is about theft. Plain and simple. And it's about time we all started to press charges.
This situation not only affects the legacy we leave behind for future generations. It affects our own future directly, especially those of us who are over 50, for we are increasingly becoming the face of Main Street. We have double the success rate as entrepreneurs compared to all other age groups, and as we, especially women, are pushed out of corporate America, we will continue to pursue our own startups at an increasing rate.
Are you physically participating in the protests? Providing support to those who are? More of us in this country are shareholders than has ever been the case in history. Are we holding our companies accountable? What space do you occupy? In other words, where do you stand?
Image credit: AP