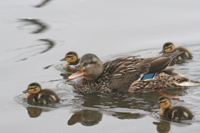 A survey by the Center for Public Leadership, of the Harvard Kennedy School, found that 68% of respondents believe there is a "leadership crisis in America." Ron Ashkenas has written a post on the Harvard Business Review Network, positing that the difficulties facing today's leaders are twofold: (1) The volume and velocity of issues leaders must address have increased dramatically, particularly in an age of instantaneous communication, giving leaders far less time to reflect on their decisions before making them; and (2) today's leaders make decisions based too much on what others' want, changing with the polls or the views of shareholders, instead of making occasionally unpopular decisions that best serve long-term goals.
Both his points are good ones, but I would take them a step further. The crisis of leadership is not just a problem with "them"—business leaders, politicians, nonprofit directors, and organization heads. The crisis is a problem with all of us. We live in an increasingly smaller world, made so by technology and population growth. The future is changing, becoming one of more intricate connections among people, governments, businesses, and organizations. We can no longer lay the problem of leadership at the feet of some distant person we may never interact with directly. In our changing society, we all must meet the challenge of leadership.
First, we need to start with how we lead ourselves, for until we can meet that basic challenge, we cannot begin to lead others, businesses, our communities, our nation, our world. From the bedroom to the boardroom, around the kitchen table and at our laptops, we are all leaders in this new society.
At a minimum, we need to solve the exact same problems Ashkenas lays out in his article. We need to figure out how to make time to reflect, to get in touch with our own inner wisdom, so that we spend more time responding than simply reacting, often rashly. We need to cut through the volume of issues we face in our modern lives by choosing what is most important and ruthlessly cutting the rest out of our lives.
In taking these steps, we will in part solve the second problem, the one of leading based entirely on the opinions of others, for we will have a sharper focus on what really matters and time to listen to others and consider whether their opinions match what we find when we take time to reflect and listen to the visionary voice inside of us. But then we need to take the next steps. We need wisdom and what Dr. W. Edwards Deming called profound knowledge, "knowledge for leadership of transformation. Transformation is not automatic. It must be learned; it must be lead."
To lead others in this transformation requires a commitment to transformation in ourselves, including self-knowledge and actualization; understanding change and transition; accepting that the future is already here: singularity, nanotechnology, cyberspace—we must embrace and master these changes; honing our skills to meet 21st-century demands, which requires lifelong learning; envisioning alternative futures and our response to them, then taking practical steps to create these futures.
Further, we need to ask ourselves if we are living our lives based on what really matters to us or what we think should matter, what other people tell us we should be doing. Only when we take these steps in our own lives will we begin to see change in our world and in our leadership. Only when we accept the challenge to lead ourselves and our world into the future will we be able to turn this crisis into an opportunity to make historic changes around the globe.
Whom do you hold as an example of visionary leadership in the boardroom, in virtual business, in politics, in social justice, around the kitchen table?
Image credit: Stock.xchng, photo by Joan Kocur