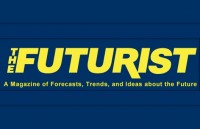 This summer, I was honored to attend the World Future Society's annual conference, World Future 2013: Exploring the Next Horizon, as a presenter, an author, and a journalist.
My talk, "Visionaries Have Wrinkles: Serving the Generation Who Will Change the World . . . Again," was timely for this audience of Futurists. The futuring profession and discipline often needs more connection between the heady academic ideas and theorizing to the practical application. Futuring is, among other things, a set of skills, a tool that is only as powerful as its use in our everyday lives. This is, in part, why I call myself The Everyday Futurist.
This is also one reason I chose to report on the Global Summit on the Future of Education, titled "The Personalization of Education," an illuminating full day of talks in conjunction with the WFS conference. The future of education affects every single person on earth in clear practical ways as well as being an ongoing personal and professional interest of mine.
From my own early career as a science educator through my work as a professional Futurist and Master Coach, I've always viewed lifelong learning as fundamental to what I teach and mentor in others. This view is another reason I call myself The Everyday Futurist and why I believe that anyone can learn and use futuring skills and strategies in their everyday lives and work.
I am honored yet again to have my report on the summit published as a web exclusive by the prestigious WFS magazine The Futurist. I hope you will enjoy reading my article, "Personalized Education Gets an Upgrade," and, if you are so moved, that you will share your thoughts here or in the comments section of the article.
How do you think personalized education will affect our future, both in terms of the young people in our schools and the adults, like us, on our lifelong quest for knowledge?