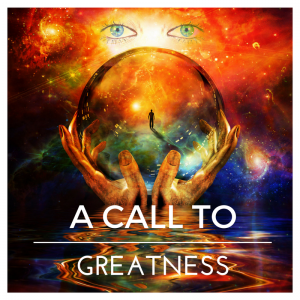 "Only challenge produces the opportunity for greatness. Given the extraordinary challenges the world faces today, the potential for greatness is monumental."
 James M. Kouzes/Barry Z. Posner
Challenge is the Opportunity
For Greatness
Our Challenges are the Call to Greatness
For so many of us, the last few years have been personally and collectively challenging. Calling forth all our strength, demanding we dip/g deep into our spiritual well and hone our emergency tool kits so that no matter what chaos touches us, we return to center. The greatest gift of these times of epoch change has been the call to our greatness. Sometimes the call is so silent, it is barely perceptible except to the trained ear. Other times it shakes us up like a cacophonous horn blowing for all the world's souls to come to attention.
All of history shows us that true greatness emerges in times of crisis and transition.
When we ask folks to us who they think of when they think of greatness, the first answers are always the most notable…President Lincoln, Mahatma Gandhi, Winston Churchill, Golda Meir, JFK, Martin Luther King, Mother Teresa, Nelson Mandela…the list goes on. All were called to meet the challenges of their day…each rose to greatness.
Whatever the triggering event(s): a major catastrophe or the normal ebb and flow of this cycle of life; a loss of a friend of 40 years to cancer; unexpected divorce after 25 years; falling off the career track or being toppled from the tower of power at 50…each event thrusts us into transition and presents us with a life-changing challenge for us to meet. Like the mythic Sumerian Goddess, Inanna, who must first descend to the underworld so to disrobe to her potentiated queen of the Overworld, or Odysseus who must resist the call of the siren on his obstacle-laden journey home—each of us blessed with these challenges will come face-to-face with our own greatness.
It is we who are entering, in the midst of, or leaving, our rich middle years who have the responsibility to be the new trailblacing visionary Leaders for the 21st Century  …the messengers, teachers, and transformers co-creating a better tomorrow… today.
Will you answer the call? Have you heard it?


Karen Sands, leading GeroFuturist, is the author of 11 books including recently released, "The Ageless Way: Illuminating the New Story of Our AGE".