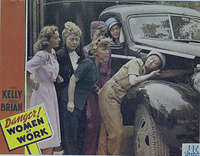 Kathryn Welds recently wrote an enlightening analysis of Robin Ely's survey of Harvard Business School women graduates. One would think that women's situation in the workforce would have changed since they were first admitted to Harvard's B-School in 1963.
Unfortunately, not so much.
We're still seeing the same refrain, over and over again. Women are still culturally bound to do the bulk of work at home, to be the ones to take leave for family reasons. Many have suggested that women simply stop doing this, that they wait until more established in their careers before having families. Few (if any) suggest this to men.
Even today, 50 years later, women are punished in the workforce not only for being women but for taking on more responsibilities than men. Even women from one of our country's premiere business schools face the same difficult choices, the same marginalization, and the same stereotypes.
The solution is not to blame the women and tell them to do things differently. The solution is for businesses to change so that women and men can value their families, volunteer in their communities, and become more well-rounded members of the organization without being punished with less money, less career advancement, and less respect.
Even some of the most enlightened business owners get trapped by patriarchal thinking. My physician, for example, is an amazing physician. His practice is spilling over with patients. His wife is also a doctor. In fact, they met in school, and after they married, she had babies and stayed at home while he built his practice. Now he's talking about her coming in to help with the overflow. She wants to work. He wants her to work. He wants an equal partner in the practice.
This is an evolved guy, with not an ounce of arrogance. He's grounded and passionate about what he does. He sees his wife as equally skilled and competent, yet on one of the days I went in, he seemed distracted. His wife had to stay home that day because the kids were sick. He's frustrated because he says, this is why women don't get ahead, why they can't succeed in the world. He doesn't even realize that he's come from an ingrained gender-inequality perspective. That the way our businesses are set up and the assumptions we make about women's role with the family are the problem, and that we can change our businesses.
Take a look at the National Science Foundation, for example, which has begun a Career-Life Balance Initiative for the sole purpose of helping "reduce the rate at which women depart from the STEM workforce." This is just one model of a successful approach, so successful that they are expanding it this year.
Aside from the pure ethics of the unequal approach toward genders in the workforce, from a business perspective, it is not profitable. I've written before about the positive effects on profit that companies experience with women in leadership and on boards. Consider how much more data we would have on this if we actually had more women in leadership positions.
Companies should also keep in mind that the very reasons women are held back demonstrate a remarkable work ethic. As Welds points out, the majority of women working part time or pro bono, while caring for children at home, are also engaging in significant volunteer activity.
How many businesses would refuse to hire or promote their hardest working, most well-rounded employees if phrased in that way? Yet that still is the status quo.
Any company that believes they can keep on keepin' on in this way should take a hard look at the fact that women are finally taking the advice to address inequalities in the workforce—but not how you might think. They are leaving corporate America to start their own businesses in droves. The most dedicated, hardest-working, values-committed people in our nation and in the world are now your competition.
Business as usual is not the safe route to take anymore. It never was the ethical route.
What can you do, or are you doing, to attract and promote more women in your organization?
Featured photo by Muyfifi.