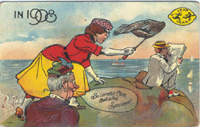 Today is Leap Day, an extra day in our calendar every four years to compensate for the fact that the Earth actually takes 365 1/4 days to revolve around the sun. Leap Days (and Leap Years as a whole), like any unusual days, have several traditions and superstitions associated with them.
In Greece, marrying in a Leap Year is considered bad luck. In Scotland, babies born on Leap Day are considered unlucky, but elsewhere, the opposite is true. Leap babies are thought to have particularly good fortune.
At one time, English law did not recognize the legal status of the day (so they ignored it, or "leapt over" it, hence the name), so contracts made on that day weren't binding, crimes committed weren't prosecutable, and so forth. Other traditions are in this vein, with the idea of it being a day free from the ordinary, almost an Opposite Day. In the past, when only men proposed marriage, women were allowed to propose on Leap Day (or, in some places, anytime during Leap Year).
Nowadays, although more men still propose than women do, it's no longer strange for a woman to propose marriage. In fact, it's no longer strange for a woman to choose not to marry at all. So this tradition probably strikes many people as a quaint remnant of our sexist past. We are all fortunate to live in a time when women make their own choices.
An Opposite Day today, when women are equal to men and have choice, would look very different, right? We'd have ridiculously implausible events like Congress holding a panel on birth control that had no women on it, that wouldn't even allow women to testify. Legislation that values cell tissue, no different from the tissue our bodies regularly slough off, more than it values a woman's life. Candidates for president who support government invading women's bodies and in many cases forcing medical professionals to knowingly harm them physically, mentally, and emotionally—to even risk their lives.
Can you imagine? It's almost Orwellian. It's a good thing women's rights have gained by such leaps and bounds.
Facetiousness aside, much of this is a reaction to the gains women have made (as I discussed before in "Less than Human"). We control a higher percentage of money and assets. We are more likely than men to earn degrees as we enter an economic future that will have an enormous demand for knowledge-based professionals. And we are increasingly deciding to speak up and demand that we be heard and respected. We are even gaining more and more positions of power, although not equal to the number men hold by a long shot—which is a major reason so much of this misogynistic crap is gaining any ground whatsoever even without broad public support.
Systemic attacks on women are getting so extreme that it's tempting to think they will implode on their own, that we don't need to do anything. Let the religious right run off their own cliff. I know that I debated whether to even write about this at all since everyone is already decrying it.
But then as I was thinking about this blog post yesterday, and reading about the ultrasound bill passing in the Virginia senate, I realized that we cannot have too many voices, that we cannot fight too hard against these attacks on our rights, our bodies, our lives. We have to speak up and act with our voices and our bodies while they are still wholly our own.
If there is one thing we can learn from looking around us today it's that no matter how many leaps we've made in gaining rights and equality, we still, every single one of us, must keep taking small steps forward. Every step counts. Even on Leap Day.