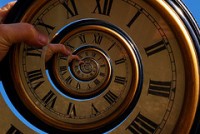 Be forewarned, the road to a great future has potholes, speed bumps . . . and unexpected detours! Change is all around us and it can quake you to the bone and bring us to our knees.
What I've learned over the years is that it's far easier to enter the future with a prepared mind, healthy body, and unrelenting trust in why and who you serve. All of this, of course, underpinned by an abiding faith in something greater than ourselves, guiding us to our destiny and our expression of our unique greatness.
I'm a big fan of assessments and provocative questioning as a way to uncover what we don't know. I consider a year-end review a mandatory precursor to planning and goal setting for the new year.
So please accept my Greatness Challenge by taking some time for yourself to reflect on these questions, which will make you better in business or in making your next career moves. Please make sure to not to be interrupted. Curl up in your private space, and do what the already successful always do, take time for yourself to reflect and appreciate with gratitude.
Year-in-Review Questions
If you met the Oracle of Delphi, what three questions would you ask? And why?
What has changed since the beginning of 2013?
What went well in 2013?
How did you exceed your expectations of your own greatness?
What didn't go as well as expected? Without blaming anyone, what lesson(s) can be learned?
If you had a do-over, what would you change or do differently?
What is still keeping you up at night? What needs to change?
What did you learn this year about yourself that you will carry forward into the new year?
What do you stand for?
What do you want to happen in your world/your business?
Featured images by Flickr user ĐāżŦ.