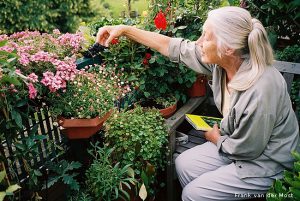 Sacramento, Ca. – I love to remember the tiger lilies that grew in my granny's Oklahoma red dirt. They seemed magical with their bright orange color and their black speckled petals. Every time I see one I'm reminded of the Oklahoma summers I spent playing with cousins and eating my granny's wonderful cooking.  The ones I grow must be missing the red dirt of Oklahoma because they're not as prolific in my Sacramento Valley dirt but they still remind me of my roots and my sweet granny.
Living longer and better requires a lot of attention to exercise and brain fitness. We all need exercise, fresh air and sunshine to maintain good health. Our brains also need to be exercised and experts agree that reminiscing can elevate our moods and flex our brains in many positive ways. One way to kill two birds with one stone is to grow a memory garden.
Our ability to smell is the strongest facilitator of remembering. Fragrant plants can take us back to our childhood or recall a day in the garden with a loved one. I especially like to grow the plants that have been given to me by family and friends. Roses are perhaps the most fragrant and are easy to share with others. Cuttings taken in winter can be rooted and gifted for summertime blooms.
Who doesn't have a planting of Hens and Chicks that someone gave us? My garden is filled with plants and flowers that my mother has given me. Most of them she dug up from her garden and that makes them more special to me.
My Granddaddy loved crepe myrtles. They grew all over the 160 acres where my father grew up. Their ruffled and papery blooms gave him so much pleasure as mine do for me. They also remind me of my grandparents' old farmhouse and how excited I got as a child when we were close enough to see the windmill turning in the field. I can just see my granddad go out past the woods to find Goldie, my father's buckskin mare. Crepe myrtles are planted at the head of my granddaddy's grave. I took my own children back to the homestead while they were still little. The farmhouse is gone, the windmill is broke down and laying in the field, but crepe myrtles still grow next to where the front porch once stood.
My daughter hated gardening when she was a child. She would promise to clean the whole house if I just wouldn't ask her to lend a hand in the dirt. Regardless of her complaining, I made her learn all the names of the flowers we grew. She was a quick learner and managed to only spend a short time in the flower beds. But one year I found a way to lure her into the garden. I planted a sunflower house with six different varieties of sunflowers and morning glories that climbed up the giant stalks. Every day she would go out to see the house's progress. When it grew big enough, she would go inside and sit a while dreaming. She's now a mother herself and now enjoys planting flowers and vegetables with her two sons. I try to grow sunflowers every year, mostly to remember the summer of that Tara took to gardening because of a sunflower house.
Gardening can be so beneficial for getting you in shape, exposing you to fresh air and it can be a social connector also. Whether you love to garden or just love someone who does, it gives you an opportunity to connect. Just ask that gardening friend or family member to show you their garden. Take them a small plant and you'll be remembered for years to come. Chances are that you'll come home with a memory plant of your own.
---
Karen Everett Watson is a certified gerontologist who lives in the Sacramento Valley just a mile from her parents who give her a constant flow of topics on aging. She enjoys her three children, 10 grandchildren, her chickens and two acre homestead.