Taking care of yourself while taking care of someone with Alzheimer's Disease
Did you know that November is National Alzheimer's Disease Awareness Month and National Family Caregivers Month? Many people are directly affected by this debilitating disease, both as patients and caregivers.  If you are tending to the needs of someone with Alzheimer's, you may find that you're not taking care of yourself.  Neglecting self-care can leave you depleted emotionally and physically, making it difficult to be the best caregiver you can be.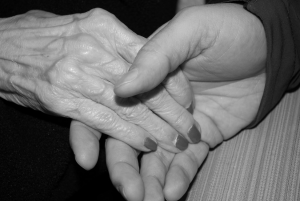 Image courtesy of Pixabay
The impact of Alzheimer's Disease
According to some studies, Alzheimer's Disease affects more than 5 million Americans, and that number is expected to triple by 2050.  One out of every two families is now directly impacted by the disease.
The impact on caregivers
 More and more family members are taking it upon themselves to care for loved ones who suffer from Alzheimer's disease, and this isn't an easy undertaking. The Alzheimer Society of Canada warns that anyone who cares for patients with the disease could easily succumb to caregiver stress.  Consider these warning signs:
Denial about the impact of the disease.
Anger toward the person with the disease, self, or others.
Feeling frustration with recurring situations, such as being asked certain questions repeatedly.
Losing interest in activities that were once enjoyed.
Uninterested in connecting with friends.
Anxiety about the future.
Concerns about what will happen if unable to continue to provide care.
Depression, sadness and hopelessness.
Feeling apathetic.
Sleeplessness or not feeling refreshed.
Crying easily or being irritable.
As a caregiver, it's important to make sure you are getting enough sleep, eating right, exercising, and keeping your own medical appointments.  When you are unwell, it's crucial for you to take care of yourself with time to rest and recuperate.  If you or someone you know is exhibiting the symptoms of caregiver stress, reach out.  A visit with the family physician is in order, and family and friends need to offer support.
Improve your self-care
It's important to take regular breaks from caregiving.  Get help with tasks like shopping, meal preparation, and bathing the patient. Participate in activities for your own health, which includes eating healthy, exercising, enjoying downtime and getting enough sleep.  Doing these things will give you the bonus of taking control of your situation, which can reduce overall stress.
Don't forget the dog
If you're a dog owner, you know the comfort and unconditional love your dog provides. Dogs can be tremendous sources of support and love, and they help you cope with anxiety, stress and depression.  Dogs can lower blood pressure and increase the "feel-good" chemicals in your brain.  Make sure your dog is a center for support and not stress; if you need help now and then, consider hiring a dog walker.
Your self-care
If you are taking care of someone with Alzheimer's Disease, don't put your needs last.  Recognize symptoms of caregiver stress and your own barriers.  Improve your self-care to benefit your physical and mental well-being, and make sure you spend time with your beloved pooch. Taking care of yourself will help you take better care of your patient.
About the author: Lydia is the co-creator of Alzheimerscaregiver.net, which provides tips and resources to help caregivers.