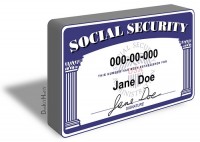 Whenever I read about retirement age, and how it has changed or is changing, all I can think of is "What difference does it make?"
Why, in this day and age, do we even have a "retirement age"? Maybe in the past, a particular age could be associated with a time when people were physically and mentally ill-equipped to continue working, so this age provided them with some guarantee of health care and continued income (although I would argue that this arbitrary age was never accurate and perhaps contributed only to a dangerous myth that kept people from fulfilling their true potential in their third and fourth stages of life).
But today, we know that people are living longer, healthier, more active lives across the board. You've heard that 60 is the new 40 (and 70 the new 50, 80 the new 60, etc.). This isn't just a marketing slogan. We all look around at our friends, our families, ourselves, and we know this is true. So what kind of sense does it make to be quibbling about a few years here and there in a person's 60s? What kind of sense does it make to be thinking about a retirement age for someone who is functionally in their 40s?
And when you really start thinking about what "retirement age" means, what kind of sense does it make period?
The only valuable purpose I can see for having this demarcation at all is to be sure everyone in our society is taken care of when they are not as equipped to care for themselves. But isn't this an ideal for people of any age? If health or disability interfere with a person's ability to provide for themselves, does it really matter whether the person is 65 or 25?
So that leaves social security, which we've all been paying into. Yes, it does make sense for this to be available as we age because it is true that at some point, we will be less able to work as much as before (even if we keep working). It is true that the longer we live, the more likely part of our income will go increasingly toward health-related expenses. But what on earth does this have to do with retirement?
I'm not talking about denying age. Just the opposite. I'm talking about looking at the realities of aging for what they really are, and this means what they are not. Aging does not equal retiring. It does not mean we step back and sit on our rocking chairs while the younger folks take over. We may want or need to work less, or to have more flexible working arrangements, but think about that: Don't we all need that at every age?
A young parent who needs to be able to work from home or work more flexible hours and a 70-year-old who needs the same arrangement are functionally equivalent. A 40-year-old who wants to "retire early," meaning she wants to stop working for someone else and pursue her own interests, be they travel or entrepreneurship or both, is no different from an 80-year-old who wants the same thing.
"Retirement age" and similar phrases, in other words, lump together a bunch of characteristics and needs and wants that really don't have much to do with age at all. People of any age may wish to "retire"—even for just a phase of life, before returning or starting a new career. People of any age may need flexibility and help because of a health- or disability-related crisis or ongoing situation. People of any age may wish to never retire in any sense of the word, not even at 90 or 100. They want to keep working and creating and leading. They simply need to make adaptations in these pursuits that take into account the realities of their lives—just as we all need to do, at every age.
What if organizations, academia, families, and local and national government started looking at the needs and wants of society on an individual basis rather than lumping us by age?
What if flexible work arrangements became the norm—for whoever wants or needs them?
What if lifelong learning were implemented and sponsored in every nook and cranny of society—for all ages?
What if we sought ways for those with health and disability issues (their own, their parents', their children's, their spouses') to adapt their lives without worry, without having to give up entirely on the idea of doing what they want to do in life and giving back to society through their work, their creations, their leadership?
It sounds utopian, but what I'm saying is actually a pragmatic approach to economic growth, national well-being, investment in the future, and innovation that could save us all and the planet (not to mention individual happiness). The approach is pragmatic in that it is based on doing away with stereotypes about aging, myths that keep huge numbers of people from contributing to society in unimaginable ways simply because they hit an arbitrary number. The approach is pragmatic because it means implementing policies based on reality.
Because the reality is, there is no such thing as a retirement age. I doubt there ever was.
Image by DonkeyHotey