3 Ways Technology Will Help You THRIVE
by Downing Van Buren, Learn How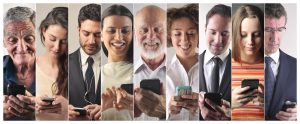 With technology advancing at such a breakneck pace it's easy to feel outdated, out of the loop, or left behind. It seems every day phones and computers get faster and more complicated. Maybe you've felt it's just not worth trying to learn how to use the latest technology tools.
We at Learn How disagree. Technology has so many benefits, that instead of being a hurdle it can actually be a great tool to help you "flip the age paradigm on its head" and really "rock your age" as Karen puts it so well.
Here are three ways technology can help you rock your age and thrive:
Knowledge
With an internet connection, you have access to almost ALL of human knowledge. You can learn anything you want. Need to learn some new skills to thrive in your career? How about that hobby you've always wanted to pursue but didn't know where or how to start? It's all available. Not knowing how to do something isn't a valid excuse for not reaching your full potential. Technology allows you access to knowledge and information that will help you live to your full potential and purpose.
Networking
Technology brings people together. With email, live video chat services, and social media, connecting with others has never been easier. Collaborating with people on different continents is now common practice for many. Companies and brands are using these services to connect with consumers and influencers more than ever before, and you can use these same services to your advantage. Learning how to use this technology will open your world to new ideas and new resources to help you on your journey.
Efficiency
Finally, technology has simplified much of the mundane tasks of life. Buying an airline ticket, managing finances, creating a business plan, managing a project schedule, shopping, even learning a new language have all been simplified through computer and cell phone apps. And the best part is, most of them are free. Learning how to use some of these apps will save you time, as well as increase your results.
Technology can seem hard to learn at first, but once you learn some basics, it becomes more intuitive and easy. That is why we founded Learn How. After noticing the trouble our parents and grandparents had doing simple tasks on their phones and tablets, we knew we could help. At Learn How we create simple step by step videos on how to use technology.

Our videos are short, easy to understand, and include on screen guides so you can follow along yourself. Learning technology can seem difficult, but with a little direction and practice it will soon become second nature. Here's an example of the Magnifier tool for the iPhone that many people don't even know they have!
So, instead of fearing technology, it's time to take control and use it as a tool to help you thrive and really rock your age.
Questions for thought:
What are you going to do today to make technology a tool instead of a hurdle?
What technology tools could help you accomplish a goal you are pursuing right now?
Downing Van Buren is a content writer for "Learn How", a group of four friends who are doing their best to help others learn how to use technology to improve their lifestyle.  We are focused on providing the best instructions, tips, and tricks in short concise videos that are easy to follow and understand.