A Note from Karen
Whether you are 50+ yourself or you serve (or want to serve) the boomer market, you have one thing in common: the need to understand and leverage the boomer story.
This may be your story and those of your peers, or it may be the story of another generation, such as your parents'. Whatever your age or stage, one thing is certain-stories are at the heart of ageless futures, for individuals and for businesses.
When we truly grok the depth and nuance and individuality of boomer stories, women's in particular, we can see how our businesses can enrich those tales, those lives. We can truly tap into our market when we know how our business can become a seamless part of the setting and even the "characters" that matter most to those we serve.
When we can perceive the deeper themes of others, we can speak to those themes and play a supporting role in unleashing the greatness that is within each and every person we serve.
As individuals, we can see how our personal and professional lives are books in and of themselves as well as chapters in a much larger book that spans generations past and generations to come.
When we step outside ourselves to understand our stories and those of our generation, we empower ourselves to not only shape the ending but to decide whether our stories will end at all.
This month's featured article, "Ageless Futures Are Here to Stay," delves into the intersecting stories of what positive aging means to us as individuals and as business owners, and how the overlap with Boomer Foresight can empower us to understand not only who we are, but who we can be.
To your ageless future,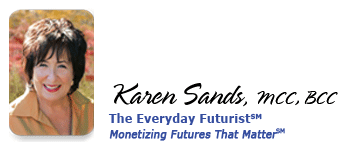 Please visit with me on Twitter, LinkedIn & Facebook
P.S. I know your inbox gets full, and I respect your time. That's why I will always strive to bring quality content, resources, and offerings relevant to those 50+ and the people who serve them. If you need to manage your subscription, please see the link at the bottom of this email.
Featured Article: Ageless Futures Are Here to Stay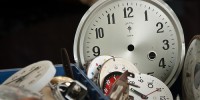 One of the reasons AgelessFutures.com is set up to provide information for post-50 women as well as the people who serve them is that these goals are intertwined. Many boomer women are entrepreneurs or considering starting their own business, and those who aren't are likely to work for companies that will need to pay close attention to the boomer market, especially boomer women.
I also genuinely care about businesses learning more about this market and catering to who they are, not to the stereotypes of aging, especially aging women. These stereotypes damage us all.
I want to change the conversation around aging, and it just so happens that doing so is also a profitable move for businesses as well as being a necessary social change for all of us, at every age and stage.
Finally, my approach to these topics is firmly rooted in my work as a professional futurist, which involves studying trends and developing probable alternative scenarios with an eye on the aspirational alternative scenario, the ideal, as well as preparing for its opposite, the worst-case scenario.
I developed a Venn diagram that illustrates how these all intersect in ways that enable us all to create our own aspirational ageless future as well as to monetize that future so that our businesses and our ideal quality of life are sustainable.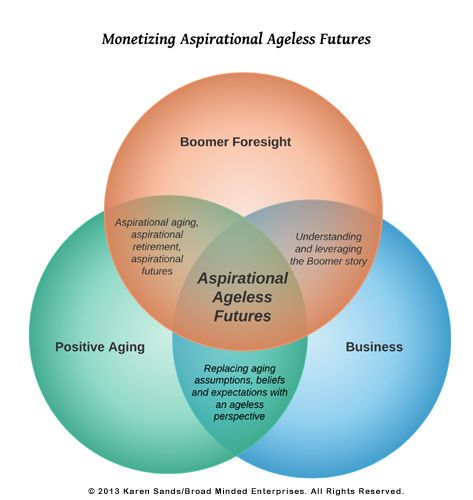 As individuals, we all strive for positive aging, which means in part challenging our own assumptions, beliefs, and expectations about aging so that we can shed the myths and make room for an ageless perspective. Businesses must do the same if they are to serve the genuine needs of this audience and market to who they are and who they can be, rather than the all-too-common unintentional insult of portraying boomers as a caricature of themselves and of a view of aging stuck in the last century.
Similarly, as individuals, we all can learn to use the tools of foresight to develop the most probable scenarios for our futures and more clearly define the changes we can make to nudge those futures toward the most aspirational scenario possible.
Businesses can do the same by focusing on who boomers really are, by understanding and leveraging boomer stories.
For we all have a story to tell, and often, when we dig deep, we find that this story has a much grander, more visionary ending than we ever imagined possible. In fact, the best stories stand the test of time.
The best stories are ageless.
Top Posts from the Ageless Futures Blog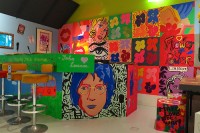 Serving the Boomer Market
Whether you're a Boomerpreneur or not, odds are you are serving or hoping to serve the enormous Boomer market. If you are not, you are leaving money on the table. I guarantee it. But how exactly do you reach this generation, especially if your business provides products or services that are not age specific? . . . Read more and leave a comment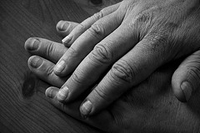 Can't Buy Me Love
Boomers have come full circle. Well, almost. The Boomer Values Realignment Study recently showed that the Boomer reaction to the economic downturn and other national and global crises has been to focus more on relationships. . . . Read more and leave a comment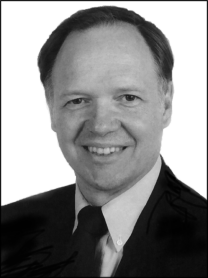 Conscious Aging: A New Level of Growth in Later Life
What does it mean to say that Conscious Aging represnts a new form of "growth" in later adulthood? It means that Conscious Aging amounts to a higher level of functioning correlated to the distinct chronological stage of later adulthood. . . . Read more and leave a comment
Click here to see all posts on the Ageless Futures Blog.
Excerpt from Ageless Resources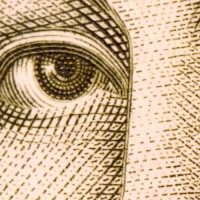 The Future of Business
It's a mistake to wait for the economy to recover before we transform our lives, work, and world. The future belongs to those who are starting those transformations now, who are shaping the world and creating their own place in it. Doing so requires staying on top of trends, which can help you lead change with your ideas, instead of being swept along by it uncontrollably. . . . Read more.
Click here to see all articles on Serving the 50+ Market.
Want to use excerpts from Ageless Beat in your e-zine/e-letter, blog, or website? You may as long as you include the following text in its entirety:
Copyright Karen Sands, MCC, BCC, publisher of the complimentary monthly e-letter Ageless Beat and the Ageless Futures blog. To sign up for her complimentary e-letter and blog, and to learn more about her tools for positively transforming yourself, your work, and your world, visit www.AgelessFutures.com on your journey to an ageless future.