A Note from Karen
Hello!
As promised in the last issue of the Future Works Gazette, I am thrilled to send you this premiere issue of Ageless Beat, my new monthly eletter about news, trends, and opportunities for 50+ women and men and for all ages who serve them.
If your business does not currently serve this booming market, you are leaving billions on the table. I invite you to stick around to learn more about the generation that will help you meet the Triple Bottom Line: People, Planet, Profits.
I will continue to send the Future Works Gazette, packed with expert advice and strategies for leveraging trends to monetize a future that matters.
Both eletters will work together to give you a picture of where we're headed in business, in our personal lives, as communities, and as a planetso that you can combine what matters most to you today with what the world will need tomorrow.
To your ageless future,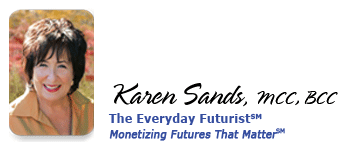 Please visit with me on Twitter, LinkedIn & Facebook
P.S. I know your inbox gets full, and I respect your time. That's why I will always strive to bring quality content, resources, and offerings relevant to those 50+ and the people who serve them. If you need to manage your subscription, please see the link at the bottom of this email.
Boomer Summit Gets to the Bottom Line
Bravo to Mary Furlong for pioneering the What's Next Boomer Business Summit for the last 10 years. Advocating for big business and investors to not leave money on the table, she is a leading visionary voice bringing big money attention to us, the 50+ market. The summit is the place to be for big money to meet the innovators and thought leaders in providing services and products that have promise to improve our longevity and quality of life.
The tide is changing. A full onslaught of big money is not yet focusing on you and me, but it's coming. Just in the last year, we've seen an increase in the number of reverse mortgage ads and retirement investment and planning offers still hawking the good life. The first push is always in the women's beauty arena, so the shift to sell us some new wrinkle-erasing magic is nothing out of the ordinary anymore. We are already inundated with anti-aging messaging and promised fountains of youth in a jar, or tube. The guys have it easy—they get a pill with no side effects…unless it goes awry. As a generation, we are a mighty big market, and we are demanding innovative solutions to give us the best shot at outliving the odds and still loving being here, while we make a difference… again.
Mary's intention is to bring the two together for mutual benefit, to build "an intelligent network of relationships to drive your Boomer business." If you've got an enormous engaged platform or a beyond-the-box solution to whatever Boomers will need and want, then the Boomer Summit is the place to connect with those who hold the keys to our generation.
Although the event was held in a typical downtown conference site, Chicago's Hyatt Regency, once I signed in and got my bearings, I felt like I was entering a trade secret marketplace in a land I hadn't visited in quite some time. Everyone present was there to learn now to make money on Boomers or to show you how.
I'm all for combining making money with serving Boomers as long as it contributes to the Triple Bottom Line (people, planet, profits), upstream and downstream. Early in my career as a futurist, strategic marketer, and corporate intrapreneur, I became intoxicated with exploring the aging trends and their impact on the markets of tomorrow. So I'm an easy mark. I get off on hearing about all the edgy new technologies and services, and what works and what hasn't and why. I am a faithful fan for life of this generation, especially its women. This convergence of money focused on our growing older is a fortuitous shift in attention just when we will need it the most.
I knew this was going to be an intense day as I reviewed the agenda of presentations, ranging from money, retirement, grandparenting, trends, tech, and media to the future of global and digital Boomer consumers, and of course, the latest on health and wellness. No way could I attend all the sessions, so I had to be very selective.
Marketing to the People, Not the Stereotype
For my first session, I was drawn to "Money, Retirement, and Grandparenting." The topic brought me back to my roots in retirement services and marketing at Equitable/AXA. So I still like to do a reality check on the status of MetLife's current research. The panel was impressive, with Deborah Jacobs, Senior Editor of Forbes Media, moderating Mark Miller, journalist, and Sandra Timmermann, VP and Director of MetLife Mature Market Institute, which produces groundbreaking studies, provides education, and funds innovative ventures to share the implications of this research for business and marketers. Sandra was the real draw for me.
She had a lot to share, too many stats to record. The bottom line was good news: Contrary to the exhortations of media pundits that there's enormous discord between the generations, she reports that "It's all in the family," meaning that the generational war is not found in their studies. It seems to be all hype. Boomers, the media-labeled "Me Generation," has grown up, choosing "purposeful giving" over frivolous spending. Boomers seek memorable family vacations, quality everyday time together, and being family wisdom anchors. No surprise to most of us, Boomers want to enjoy the rest of their probable 40+ years with friends and family, on special interests, making a difference, and focusing on health, rather than leaving money on the inheritance table.
Then we were all swept into the main ballroom for the keynote plenary, which would be followed by the luncheon, with each table hosted by a blogger, author, or journalist. As a table host, I asked my tablemates about why they came and what they had gotten as takeaways thus far. We chatted and passed around biz cards, fostering new connections, until Gail Sheehy, author of Passages and Passages in Caregiving, introduced Mary Furlong, fearless founder of the day's event, and Jody Holtzman, Senior VP, Thought Leadership, AARP.
Gail spoke about how writing Passages in her 30s limited her scope to an age range that stopped at 50. Now she realizes, of course, that there are more passages after 50 than we ever could have imagined. She suggested there are perhaps double the number of passages. Each of us post-50 women and men has another 30–40 years to go. Some of us living today will celebrate 105!
Gail went on to describe what gerontologists and developmental psychologists like Carl Jung, Erik Erikson, Beatrice Neugarten, and so many others before us have noted, that mid-50s equals the middle of our midlife transition. I've always suggested that there are actually three major stages in the midlife transition, early, mid, and later. Some folks will experience a biggie in their mid-30s or around 45, while others go through all three combined as they leave midlife in their later 60s.
I loved Gail's metaphor of the lobster shedding its shell so that it can grow larger still as an alternative to the metamorphosis of the butterfly from the chrysalis. This works great for my model of Visionaries Have Wrinkles and creating aspirational ageless futures. She repeated the now familiar stats that are driving us all in the field to scale up and meet the needs of Boomers suddenly starting over.
Next up was Jody Holtzman, who blew my fuses by confirming with hard facts what I and others have presumed for years. Although I've heard our times described as "The Longevity Economy," I really appreciated his explanation that it depicts the upside of longevity and aging. After his yearlong study, he believes the conversation around longevity has shifted. With 100 million people 50+, why leave hundreds of billions of dollars on the table by disregarding this demographic shift? No one can afford to walk away from this opportunity. Entrepreneurs have various marketing strategies available to penetrate the 50+ market. For example:
Universally designed products good for all ages, including 50+, such as Apple's iPad, iPhone, Macbook Air; Facebook, which is rapidly gaining acceptance by women 55+; and Wizard101 games, created for kids but now marketed to grandparents too.
Age-targeted products and services, designed with functionality in mind for 50+, that end up crossing demographic lines. BMW X5, for example, is designed ergonomically and marketed to men 50+, but the advertising messaging is in 30+ lingo. NCIS is CBS's most profitable show because over 50 can watch it on TV and the under 50 can stream it onto their devices.
Products and services with a universal design morphed for specific age targets, such as cereals that are good for everyone but now appeal to health-conscious Boomers, dating sites (a proven success) aimed at Boomers, Ferraris redesigned to be easier to get in and out of, and Harley Davidson's three-wheel motorcycle for hip older adults.
Jody had fabulous slides filled with tables of numbers no one could possibly decipher in his short presentation, but he was able to capsulize them down to three broad categories on how to judge the viability of products and services: 1) utility, 2) maturity of the market, and 3) consumer appeal, particularly combining functionality and hip styling.
What isn't news, of course, is that to Boomers, age and decline don't sell. Yet in my post-graduate gerontology program of the early '90s, disease and decline were center stage. We continue to see terms like "senior" used to refer to populations who will never see themselves that way, not to mention discussions about our aging population as if we are the "other" that those in the "we" need to deal with. In the media addressing how this larger demographic will affect housing, jobs, and other issues into the mid-21st century, we are left out of the conversation when we would all be far better served by including "us" in the "we," all working together to make our communities more effective for all generations.
So the big aha for AARP is that they are putting a great deal of new emphasis on startups and innovators. Jody added that the really new innovation is that AARP will allow its members to be a focus group of sorts for new innovations to be piloted and field tested or reviewed by its members. This real-time market feedback will enable new products and services to be tweaked quickly and brought to market sooner, with more probability of success. AARP has newly put its clout and research resources behind venture capitalists.
With the 50+ market spending over $3 trillion a year, the market is ripe for creative reimagination, but this challenge is not being met effectively. All of us should be asking the advertisers, marketers, and venture capitalists, What's your new 50+ strategy?
Next up was Myrna Blyth, an award-winning editor, Founder of More magazine, inheritor of Mary's Third Age, and recently named AARP SVP and Editorial Director. Professionals in the field and members like me are thrilled she's setting the new tone by taking up our positive aging meme, that of "life reimagined" by blending passion and purpose in a new wave of entrepreneurship that "may be the sweet spot for a generation that reinvents aging."
Then Amy Hilliard, the event's poster child for successful entrepreneurs 50+, passionately and concretely reassembled her journey with her entrepreneurial venture Comfort Cake, to rousing applause.
Before we exited to the afternoon sessions, Mary Furlong shared what she's learned over the last 10 years about what's next. She left us laughing and not quite sure if she was serious when she shared that after she started Seniornet, then Third Age, and now Boomer Summit, her husband recently said it's now time to turn "what's next" into "that's it!"

A Family Affair
The last session I attended was "The Grandparent Economy," moderated by Amy Goyer, Family Expert at AARP. I was looking forward to hearing Lori Bitter, President of The Business of Aging and Publisher of Grand magazine, talk about the shift to and growth of spending by grandparents across every product category, and a shift in what grandparents plan to leave as a legacy.
Instantly, Amy got the attention of all the grandparents in the room by sharing that there are 60–70 million today and that the average age of first-time grandparents has downshifted to 47–48! Boomers are again redefining roles as they move from parenting to grandparenting, with a focus on improving the quality of life for their grandkids and adult kids while preserving their own. One stat in particular is amazing, harkening back to first- and second-generation immigrant families living under one roof or in tightknit enclaves: Two out of every ten grandparents live in multigenerational households.
Panelist Robert Stephen, VP of Home and Family Portfolio, AARP, told us that grandparents are spending 75% of their monies to contribute to necessities and 25% for medical or health insurance coverage for their kids and grandkids. He also compared AARP's grandparent membership with Facebook's 30 million, thus encouraging us to pay attention to the "Grandparent Economy."
From Lori, we were in for another peek into the near future based on her Grand readership of 4 million (and growing), with 67% (2.4 million) being grandparents. Approximately 40% of Boomers overall are grandparents. Her compelling numbers reveal a fundamental sea change occurring in the role and position of grandparents from solely authority figures to trusted caretakers, conspirators/pals, and key supporters for both adult kids and grandkids alike.
I wasn't surprised to hear that the youngest ex-hippie grandparents are highly educated, still working, and culturally diverse. I am glad that my husband and I don't fit into the Boomer "helicopter parenting" stereotype. Lori asked what I've often wondered myself: What impact will Boomer helicopter parents, as newly minted grandparents, have on their Gen X and Echoboomer children as they become parents, especially new mothers and daughters-in-law? Caught between generational parenting models, I've escaped becoming a shrewish interfering helicopter grandmother. But as with the majority of Boomer grandparents, the legacy my husband and I are most consumed by isn't the money transfer but rather helping our kids and grandkids get ahead by passing along our values, connections (especially family ties), education, and wisdom earned from experience.
What's Next?
By the end of the day, I could definitely say that Mary's Boomer Business Summit packed a wallop, fulfilling her promise that we discover how others are developing, funding, and scaling businesses for the Boomer market. For sure this was a day to forge new intelligent relationships and ignite strategic partnerships. The only downside was the one-day format, which was way too short for me to cover all the sessions realistically. There were several more I would have loved to report back on, such as the technologies Boomers and those who market to them are using, the regulatory changes that will drive new business opportunities, and the future of home, work, and play for the Boomer generation.
I certainly hope that "What's Next" is another, perhaps longer summit in the future, because one thing was clear as this one ended—for Boomers and those who serve them, this is only the beginning.
Top Posts from the Ageless Futures Blog
Positive Aging
I'm an aging junkie. No doubt about it. And proud of it!
I turned 69 on Monday, and it's no accident that I've just returned from the Sixth Annual Positive Aging Conference, sponsored by the prestigious Fielding Graduate University of Santa Barbara, California, and I'm now attending the highly regarded Boomer Summit, presented by Mary Furlong & Associates, preceding the sponsoring American Society on Aging's annual conference.
As a professional futurist and transformational gerontologist, I've been on the age beat for decades. The field chose me long before I realized it. It's been a long deep dive and a challenging open-ended solo journey, applying foresight to our shifting demographics as we traverse discontinuous changing times. All the while, I've been honing an evolving aspirational view of the future, which dovetails positive futures with positive aging (aka conscious aging).
Born on the cusp of being a true Baby Boomer, I've had a unique vantage point as an observer and a facilitator of the impact the Boomer generation has had on our changing reality as they moved past 30 on their way into their 60s. My destiny has been to stand on the shoulders of and along with others in spreading the truth about our future and sounding the call for planning strategically to meet the challenges and needs of this enormous demographic group and the echo effects on our emerging intergenerational workplace, our future economies, our very way of life, and the fate of our planet. Now these conferences are bringing us out of our research isolation, creating new tribes of professionals wanting to change the conversation on aging and the future.
A Positive Aging (R)evolution
Back in the early nineties, the Omega Institute convened two of the first conferences on conscious aging. Unfortunately, the ingrained model of aging as a disease prevailed. It wasn't until 2007 that the progressive Fielding Graduate University, an innovator in adult learning and graduate education, courageously took on the charge to dismantle this outmoded view in exchange for one of hope and possibility.
This year's conference theme, Life Re-imagined: New Approaches to Positive Aging, resonates with the question I hear over and over again as I traverse the country: "Who am I if I'm no longer young? What's next?" The question isn't new, but the intensity and universality are ramping up.
I joined my colleagues as both a roving journalist/blogger and as an author/presenter, sharing Visionaries Have Wrinkles: How to Serve the Generation of Women Who Are Changing the World . . . Again! What a kick this was for me to introduce my newest work on "aspirational aging" for the Age of Greatness that we are entering and to explore our never-before-imagined Ageless Futures with an audience of professionals in the field of aging.
The conference rocked from the engaging opening by Wendy Lustbader, MSW, author of The Unexpected Pleasures of Growing Older, who reminded us that "Elders dare to enter the deeper realms. . . . The finest audacity is at the end of life," to an eye-opening exploration of Dr. Brian De Vries'ground-breaking research on the aging experiences of gay, lesbian, bisexual, and transgender adults. Then the renowned spiritual teacher we grew up with, Ram Dass, spoke to us via Skype, taking us to a higher realm in sharing his current views on aging, dying, and death: "I'm finding aging very precious. I have no fear of death. Now I have insight to radiate out to the culture."
Bringing us back down to earth, Andrea Gallagher introduced us to the work of the Life Planning Network. In between plenary sessions, the best of the field's pioneers and newbie innovators conversed about new approaches to positive aging. Through it all, my professor and mentor from my post-master's studies and my teaching at the renowned pioneering Brookdale Center on Aging, Harry (Rick) Moody, PhD, was a stellar master of ceremonies, no doubt drawing from his experiences as a professor, lifelong teacher, prolific author, and director of academic affairs for AARP.
It all came together with the closing plenary by James Birren, a six-decade pioneer in gerontology, who was honored with Fielding's Creative Longevity and Wisdom Award. He sent us on our way with the wisdom to "Always ask questions without answers." His parting question to us: "What is your life's metaphor?"
Intergenerational Collaboration
Donning my journalist hat while scanning as a futurist, I kept asking, what is jumping out at me? What are the gaps, what new aha's are showing up, what's not being addressed?

Flashing in neon was the paucity of young people in attendance. Not one Millennial (those in their 20s and early 30s), and only a minority of Gen X'ers (mid- to late 30s and 40s, approaching early 50s). How could this be? Quickly surveying the academics present, I heard confirmation that kids are just not enrolling in new gerontology programs.

Why are so few entering the field of aging or other fields serving the enormous Boomer generation?
Are they turning away in disgust and disillusionment because of media fear mongering? The media cause célèbre seems to be to scapegoat all Boomers as the Me generation, responsible for toppling our economy, gouging our kids' future with our entitlements, and leaving our youth with a planet raped by our rampant consumerism.
With jobs at a premium and careers derailed, have we so brainwashed our citizenry with the disease model of aging that entering the aging field conjures up only the worst possible images of cleaning bed pans and tending to the most infirm among us?
Or is our long-running romance and glamorization of youth keeping us all in denial about the great potential of this new age we are in and moving through?
Perhaps our current reality is just too much to grok, and oh so scary, causing our youth to think, why bother? If we really listen to them, we'll hear the not-unfounded belief that we are heading into total planetary destruction, with our old institutions and infrastructure crumbling before our eyes, and our once-revered democracy broken. Can we blame them for their obsession with clicking on and partying it out in this NOW reality?
Yet we need each other now more than ever. A survey just released in February showed that 26% of Boomers are financially supporting their children or have them living at home, and more than 20% are supporting aging parents. We are in this together.
Rewriting Our Story
Yes, those of us leaving our 50s and entering our 60s and 70s did put us all in this current tragic reality. We were once an awesome generation with great vision and verve, setting out on what seemed an impossible mission. Boomers were dealt a Joker Card, the unexpected reversal of fortunes, and we toppled from our towers of success, ending up exhausted and frozen in horror, wondering how this could happen to us. Why now, when we thought we'd be coasting?
Amid the breakdowns all around us, most leading-edge Boomers are in shock at having aged. If we are really honest with ourselves and each other, we are living in collective grief and mourning for what used to be. Having been brought to our knees by the Great Recession, toppled from our awesomeness, and stuck in global ossification, we are stunned to find that we are not invincible, that we are not the masters of our universe. Compounding our tragic fall, too many of us are still searching for the eternal fountain of youth, which demands that we stay in denial, unwilling to face the realities of our times and our aging process.
As a generation and a society, we are pooped out, burned, and shattered, but I assure you we do not have to stay stuck in this tragic system collapse, clinging to what we know because it's familiar, afraid to break out of the box into the light of something new, something as yet un-birthed.
Blame-placing and denial aren't what we need right now. As in James Birren's parting query, we all need to ask, what story are we in? Then we can rewrite the ending, or at least come up with alternative scenarios (even aspirational aging futures) and take actions informed by what is so, actions fueled by a new wisdom.
As my dear friend and eco-futurist colleague Maria Katzenbach reminds me, the best of drama and storytelling always has a tragic reversal, followed by a turning point or a rewrite of the ending. As a science educator, my metaphors come from quantum physics and nature, which have some parallels to tragedy and comedy. I liken our current shakedown to a dissipative structure, which can shake into oblivion or enter a new level of evolution. We can and must choose evolution, which means choosing creative destruction and the resulting radical reinvention required. It's either rebirth a reimagined future or it's over and out. I know what I'm choosing. What about you? Your business? The folks who keep you in business?
As this year's conference theme, life re-imagined, alluded to, re-imagination precedes sustainable reinvention. This is what is called for now, 'cause none of us has ever been here before. The challenge of our times is to reach across generations collaboratively to re-determine what is the greatest possible future we want to re-imagine—and then occupy it! Continuously, over and over again, until it's now!
Our Portal to a Greater Future
This conference brought together a mixture of the creative arts as a pathway to self-discovery and presentations grounded in scientific research. Perhaps planned, this mix of creative inner seeking and evidence-based action is certainly a most appropriate metaphor for what is required to create our future anew as well as what comes with the wisdom of aging. The gifts of age will bring back our lost awe as we unleash our new "old age"—one of greatness, individually and collectively. As Ram Dass exemplified, as we move into our later years, we too integrate the linear and the nonlinear, radiating out true greatness to our culture.
I believe that Boomer aging is the portal to a new future for humanity and the planet. It is our generational reason for being here at this time. It is our fate and destiny and that of our kids. In fact, recent studies show that Boomers are the most entrepreneurial, the most willing to take risks, of any other generation. Our youth was our dress rehearsal. Now we must return anew to our purpose and vision for the future. For we are the visionaries we've been waiting for. We get another chance to be awesome! Who better than us to take the lead as visionaries with wrinkles, to give hope to our kids? They need us and we need them. Together we can rewrite the impending ending and craft alternative futures that work for all of us.
Featured image by Garry Knight.
Taking Care
If there is one aspect of being post-50 that we all share in one way or another, it is the concern about care—caring for our parents, our spouses, our grandchildren, our children. Many of you can probably check off several of the above as immediate areas of concern, especially if you are a member of the sandwich generation, those caring for aging parents while still helping your children get on their feet in a slowly recovering economy.
Women especially find themselves in caretaking roles, even as more and more of us are also working full time. The physical, emotional, and financial strain inevitably takes its toll. Yet the one person who seems to be left off the list for care is the one person who is most crucial to everyone's needs being met—you.
This is not news to you, I'm sure. Yes, yes, you know you must replenish yourself so that you have something left to give, but who has time? And on the one hand, you can know that you have to make time, even a little, or you will simply wipe yourself out and not be there for anyone, yet even knowing this, you push forward. That superwoman ethos we first imposed on ourselves as working mothers, able to do it all, has not gone away.
Our nest may be empty, but we still feel responsible for everyone's well-being. We are "younger" and healthier than people our age were a generation ago. We're thinking about starting a business more often than we're thinking of retiring from one. Yet we know that we won't live forever, and we can't deny that our energy is not the same as it once was. It's shifting, yet our lifestyles are not necessarily shifting with it.
I'm not talking about recognizing that we really do need to retire. Just the opposite, actually. Too often we get stuck in either/or thinking, that we either keep going at the same pace and in the same way as we have always done or we throw in the towel and retire to some cookie cutter senior complex in the desert. But those aren't the only choices. Those really aren't choices at all, frankly.
When I say that our energy is shifting, I mean just that. It is simply moving within us, changing form, no longer the energy of all-nighters to meet a deadline or the kind that fuels caring nonstop for small children. But it is still there, and it is even more powerful than ever before. Especially at menopause and beyond, the energy heats up in us creatively. We can easily miss this, however, if we are focused only on trying to make use of the physical energy we think we need to accomplish everything we want to and need to in our lives.
This is why it is crucial to find time to care for yourself. Not only do you need to restore yourself physically and emotionally, but you need to learn how to get in touch with this creativity so that you can use it to shift gears and rebalance, to determine what you need to do now to start that business, for example, so that it nurtures you and fits best with who you are and who you will be with each passing year. Especially if you are feeling stuck in a cycle of work and caregiving, these moments to pause and reflect, to express yourself and tap into your inner wisdom, are necessary if you are going to get unstuck and find solutions that go beyond quick fixes.
Believe it or not, taking time for yourself now will free your time in the future, making it possible for you to not only rise above the day-to-day but to give more to others and to the world in ways that don't drain you but sustain you. Take the time—make the time—today.
Image Credit: flickr.com – Hygiene Matters
It's About Time
Everyone is looking for ways to save money these days, and tips for doing so have proliferated all over the Internet, in magazines and newspapers, in email newsletters, and so on. The most obvious reason for this is, of course, the Great Recession and our slowly recovering economy.
For many people, though, one purpose (or a welcome effect) of saving money is to refocus on how we spend our time. Even the converse is true—the more we focus on the quality of how we spend our time, the more likely we are to save money.
For example, with gift giving, more and more families are creating gifts for each other (e.g., photo collages) instead of going on impersonal shopping sprees, and these gifts are invariably more meaningful—to give, to receive, to keep. Others are giving experiences—such as taking a friend or family member to a play or a concert. This is not only a gift based on the person's interest, it is a gift to both of spending more time with loved ones, with the people who inspire us, make us laugh, keep us young. More and more companies (like Groupon and Living Social) are recognizing and supporting this trend with deep discounts on shared experiences.
This extends beyond the experience as a gift and into our everyday experiences, as more people discover the free and low-cost entertainment options out there. In an era when people risk isolation by spending all their time behind a computer screen, the economy has kind of jump-started a trend of inexpensive entertainment being more and more social—festivals and art shows; free or low-cost outdoor plays, movies, concerts; free or discount days at museums; more and more community-run (instead of corporate-run) conferences on various interests, from gardening to science fiction. Many of these kinds of events have always been around, but in the last five years or so, they have multiplied exponentially.
Even in travel, focusing on spending quality time often leads automatically to saving money. This might mean less travel abroad and more travel in the States to see family and friends all over. It can also mean that when you do travel to other countries, you eschew the expensive tourist traps and end up enjoying more of the real flavor of the country and its people.
In a way, opportunities for more quality time are one of the unexpected gifts of the Great Recession, and one I hope we hold on to long after the economy recovers. I urge all of us to make quality experiences an integral part of the new world we are building so that they last beyond the immediate need to save money.
Start new traditions with family and friends based on the inexpensive experience. Set up new gift-giving traditions with family and friends. Change the workplace culture to provide time, flexibility, and opportunities for quality experiences—both within and outside the company.
The possibilities are endless once we start thinking creatively about how we spend our days and our money. Because in the end, economic recovery, individual happiness, health, and even achieving our most deeply held visions—it's all about time.
How are you saving money and focusing more on quality time in your life?
image credit: flickr.com, photograph by emdot
Can We Control How Fast We Age?
Most of us struggle with the disconnect between the age we feel inside and the age we see and feel in our bodies. Our capacity for extraordinary visions and creative leaps is truly ageless, no matter the packaging, but that doesn't make the aches and pains (corporeal and emotional) of an aging body any less real.
The aging process has long been something of a mystery. Even though many people tout products, diets, and other methods to slow or stop aging, these have been difficult to put to the test scientifically because we haven't had a way to objectively measure the aging process.
Until now.
A new study in the journal Molecular Cell describes an exciting development in measuring biological aging, with implications in forensics, health treatments, and possibly ways to slow the aging process.
Researchers at the Institute for Genomic Medicine in San Diego studied 656 people ages 19 to 101, focusing specifically on DNA methylation, a genetic process that leaves markers in our blood. By mapping these markers along with changes to the genome, Dr. Kang Zhang and his colleagues discovered they could determine biological age from a blood sample and accurately predict the rate of aging in that person.
This is clearly an exciting new method with potential for health and wellness therapies and treatments of specific diseases. For the first time, we can tell whether a particular therapy or regimen slows or speeds up aging. The more we are able to measure these effects, the more knowledge we will have about what we can do, eat, drink, etc., that will slow the process of aging in our bodies.
But of course, the road from initial research to application is always much longer than people realize. No one should put their lives on hold, waiting for the fountain of youth to hit the shelves. In fact, discoveries like this should impel us to do just the opposite, to be more persistent in pursuing our BIG visions now, especially those that will make a difference in the world around us. The more visible we are post-50, leading, volunteering, and changing the face of business, the more we'll create an ageless legacy that will live up to the promise in our cells.
Featured image courtesy of www.ruffrootcreative.com.